Access Control Installation Company
Access Control Experts Philadelphia
Know in Real-Time Your Facilities: Who, What, When, and Where!
Jefferson Security puts the power of security in your hands. Our user-friendly physical and electronic access control solutions are cloud-based and flexible. Easily integrate our card reader systems with security cameras, alarms, fire alarms, parking garages, gates, and overhead doors. Jefferson's unique approach to security allows us to deliver the best quality with the best technology. We have partnered with top manufacturers and developed hardware and software for card reader, license plate recognition and telephone entry systems giving you the ability to get the best approach for the lowest cost.
We also develop a unique strategy for installing the physical entry systems, which helped us save you money and get faster access control system installation. Easily manage your system using a computer, smartphone, or tablet. With prompt reporting, you will be able to retrieve audit data in case of an event and track real-time entry/exit by employees, visitors, or departments. If you need an physical electronic door or gate expert in Philadelphia, Pennsylvania, we are here to help you.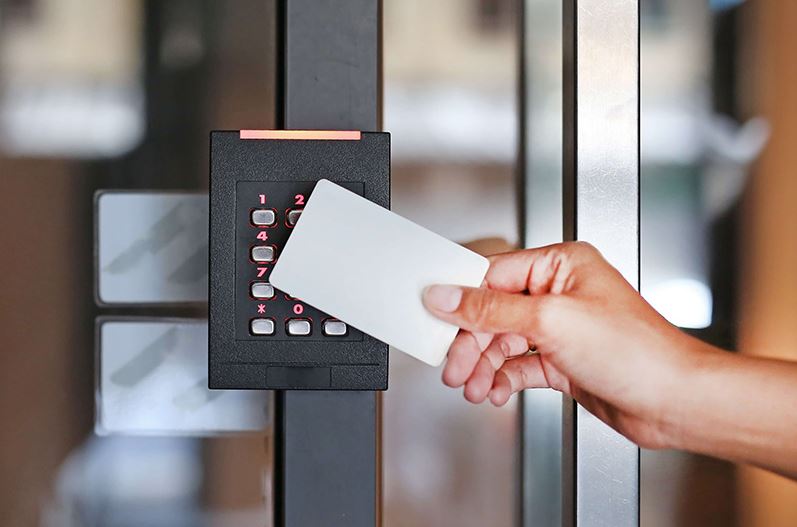 Benefits of Access Control Systems
Restrict unauthorized entry
Prevent employees access to sensitive areas
Easy Facility-Lockdown-Function for security threat events
Intuitive remote system management
Smartphone and Tablet compatible
Schedule Doors
Streamline visitor check-in
Preforms analysis/reporting on visitors and data
Overall security enhancement
Generate detailed traffic reports
Manage Multiple location effortlessly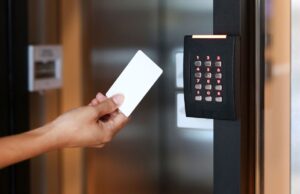 Keycard & Key Fob Systems
Whether you need to restrict access at main and side entrances or you want to control access to certain parts of a facility, keycard and key fob systems offer a simple and effective solution.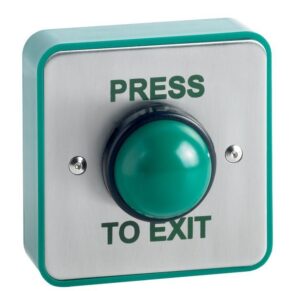 Exit
Buttons
Jefferson Security can install your electronic door locks and put them on a time schedule. We can also install egress buttons to unlock or open doors.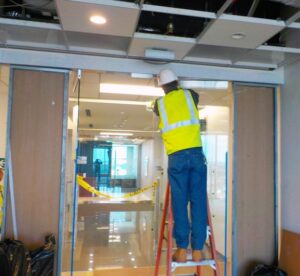 Perimeter Controls & Sensors
Video cameras, thermal cameras, and invisible fences are all key elements of a perimeter security system. Real-time alerts and mobile access to live video feeds keep you in control at all times.

Access Control Installers Near Me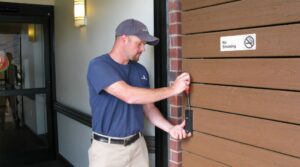 Access Control Upgrade / Repairs
Jefferson Security has experience with most of the access control manufacturers and components.  Call for a consultation concerning either ugrading your current setup or servicing aged equipment.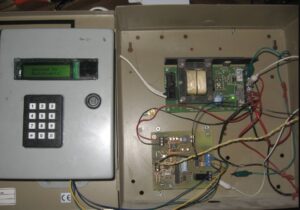 Security and Parking Gates
Whether you're looking for a parking gate, or a security gate, we can help. Our gates integrate with your current access control solution. Jefferson can even provide a windshield entry tag system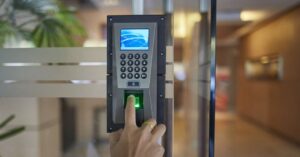 For added security, biometric access control uses fingerprints, facial recognition, iris scans and other biometric means to identify individuals who have the proper security access to pass through various checkpoints.

Call Your Local Jefferson Security Cameras Branch Near You Today
Intercom Installer Near Me
Philadelphia Area Jefferson Security Cameras Branches