Key Takeaways
| Type of Industry | Recommended Security Camera System | Benefits |
| --- | --- | --- |
| Retail | 360-degree cameras, PTZ cameras, video analytics | Deter theft, monitor customer traffic |
| Manufacturing | PTZ cameras, explosion-proof cameras, image analysis | Improve quality control, ensure safety standards |
| Hospitality | IP cameras, access control integration, facial recognition | Enhance guest experience, ensure staff accountability |
| Healthcare | Fisheye cameras, hidden cameras, motion sensors | Patient privacy, monitor restricted areas |
| Education | License plate recognition, outdoor cameras, emergency response features | Limit access, ensure student safety |
| Warehouses | Wide dynamic range cameras, thermal imaging cameras, RFID integration | Efficient workflows, prevent inventory loss |
| Offices | Video intercoms, small form factor cameras, remote access features | Employee safety, flexible working conditions |
Introduction
Installing a security camera system tailored to your specific commercial industry or building can provide immense value through improved safety, security, and operations. With the right placement and features, surveillance cameras become the eyes of your business, providing actionable insights to optimize workflows.
This article will provide an overview of configuring customized video surveillance solutions for different industries, exploring the specialized technology integrations and camera capabilities for retail stores, hotels, hospitals, schools, warehouses, and more. We'll also examine the tangible benefits security cameras offer across sectors when designed thoughtfully for your unique needs.
By understanding different components and having an expert integrator like Jefferson Security Cameras customize the system design and installation, you gain tailored protection and practical advantages that enhance your organization. When employees and customers know premises are monitored 24/7, they also gain a sense of safety and comfort.
Understanding Commercial Security Camera Systems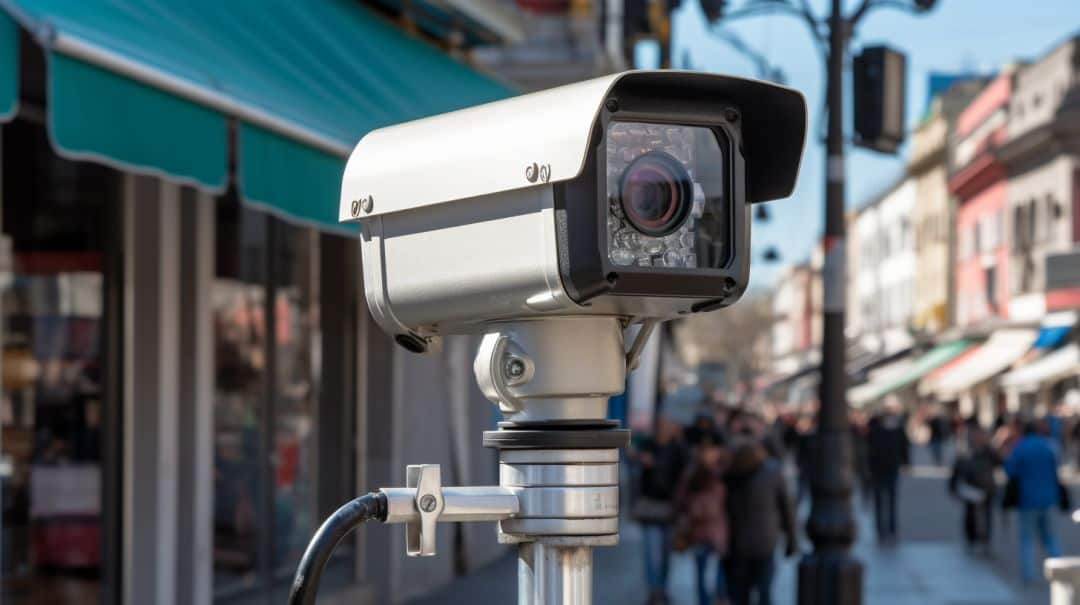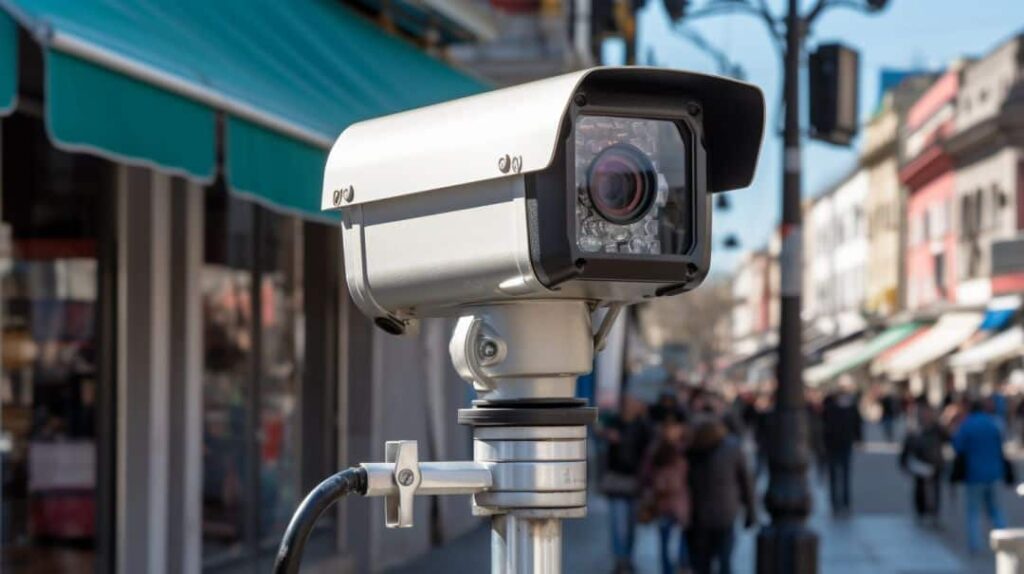 The key components that comprise a commercial security camera system include:
Components and Terminology
Cameras – The eyes viewing and recording footage. Different types like PTZ, megapixel, fisheye, and more.
Network Video Recorder (NVR) – Hardware that connects and manages cameras, storing footage locally.
Video Management Software (VMS) – Software for accessing and managing surveillance footage, especially when stored in the cloud.
Monitors – Screens to view live and recorded video feeds.
Sensors – Devices like motion detectors that trigger recording based on activity.
Options for Wired and Wireless Cameras
Wired cameras connect to an NVR via coaxial cable or Ethernet, offering higher video quality and reliability but requiring installation.
Wireless cameras use WiFi so are easy to install but deliver lower resolution. Some models use cellular networks for increased range.
Different Types of Cameras
Fixed cameras – Stationary cameras with a fixed field of view. It can be discreet.
Pan-Tilt-Zoom (PTZ) cameras – Movable cameras the user can control remotely.
Fisheye cameras – Ultra wide-angle hemispherical views. Ideal for small spaces.
Infrared/night vision cameras – See in low light conditions or complete darkness.
Hidden cameras – Discreet tiny cameras like smoke detectors. Useful for undercover monitoring.
Outdoor cameras – Weatherproof, vandal-proof. Help secure external areas.
Explosion-proof cameras – Cameras rated for hazardous environments at manufacturing plants.
Storage Options
Footage can be stored locally on an NVR or in the cloud. The cloud offers unlimited expandable storage and remote access capabilities.
Benefits of Video Analytics
Smart cameras have built-in video analytics like motion detection, facial recognition, object tracking, and more. This extracts useful data from the footage.
Tailoring Security Camera Systems for Different Industries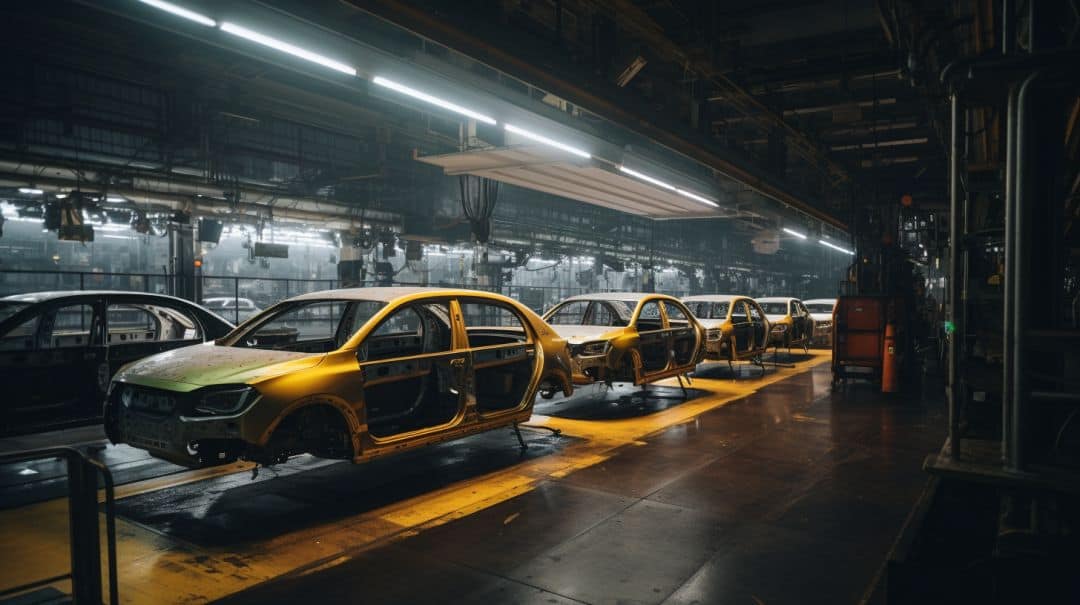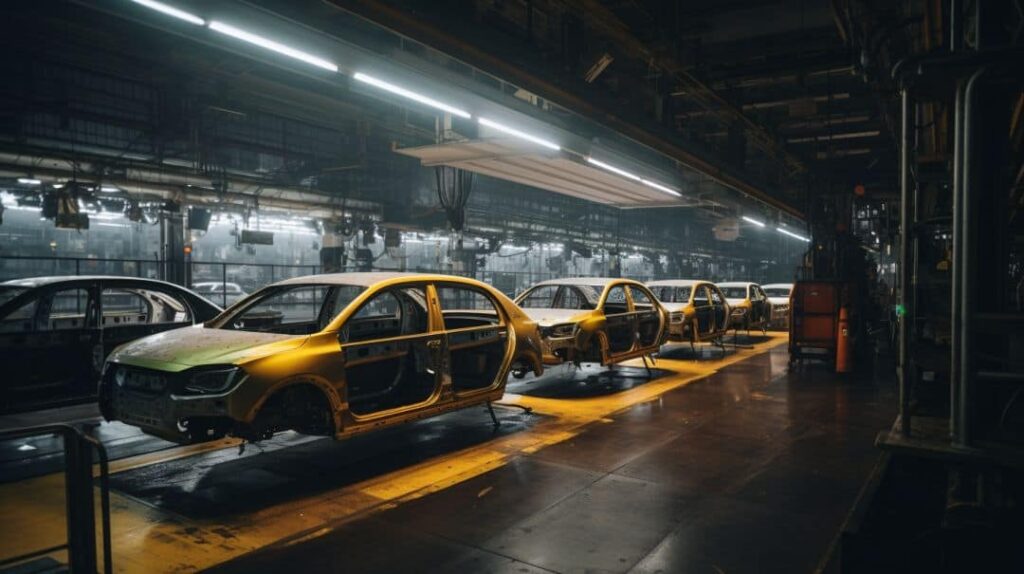 Retail Industry
Retail stores need comprehensive systems to deter theft, monitor inventory, and analyze customer traffic patterns. 360-degree cameras provide complete coverage while PTZ cameras allow staff to zoom in on activity. Video analytics help track conversion rates while POS integration ties transactions to video data. Strategically placed hidden cameras also discreetly watch over valuables.
Manufacturing Industry
Specialized cameras like explosion-proof and thermal imaging models are essential in hazardous manufacturing environments. PTZ cameras provide versatile monitoring while video analytics can analyze production line efficiency and even help improve quality control.
Hospitality Industry
Hotels deploy discrete IP cameras with facial recognition to identify guests while ensuring privacy. Access control integration also improves security while allowing convenient entry for customers. Analytics help boost staff productivity while deterring liability risks.
Healthcare Industry
Medical centers need surveillance without sacrificing patient privacy. Fisheye cameras provide wide views of rooms with fewer units while discreet hidden cameras monitor restricted areas. Motion sensors can also activate recording when someone enters a closed-off room after hours.
Education Sector
Schools and universities leverage license plate recognition to restrict parking access while outdoor cameras and emergency response features like gunshot detection ensure student safety. Indoor cameras also help monitor hallways and entry points.
Multi-Family Complexes and Condos
Shared residential spaces need flexible access options paired with monitoring. Video intercom integration enables visitor screening while indoor/outdoor cameras and email/text alerts boost security. Camera analytics can also detect sound anomalies and unauthorized access.
Warehouses and Logistics Centers
Large warehouses require broad coverage and visibility. Wide dynamic range cameras work in diverse lighting while RFID integration tracks inventory. Thermal cameras enhance perimeter protection and prevent cargo theft.
Offices
Office buildings benefit from discreet indoor cameras to protect assets and intellectual property. Video intercoms manage access while remote access apps support hybrid work with monitoring from anywhere.
Reasons to Install Commercial Security Camera Systems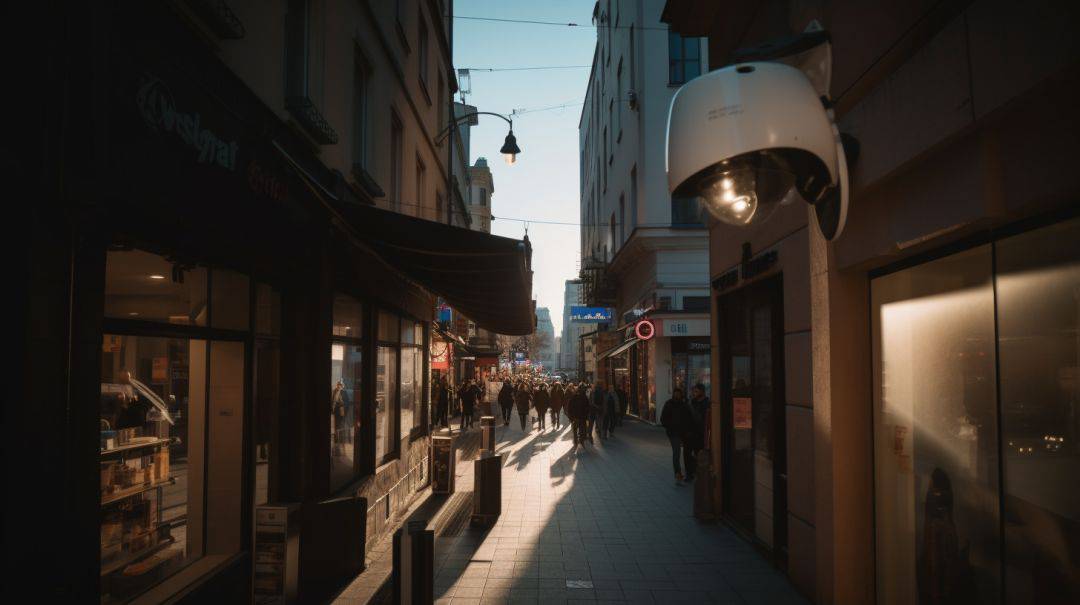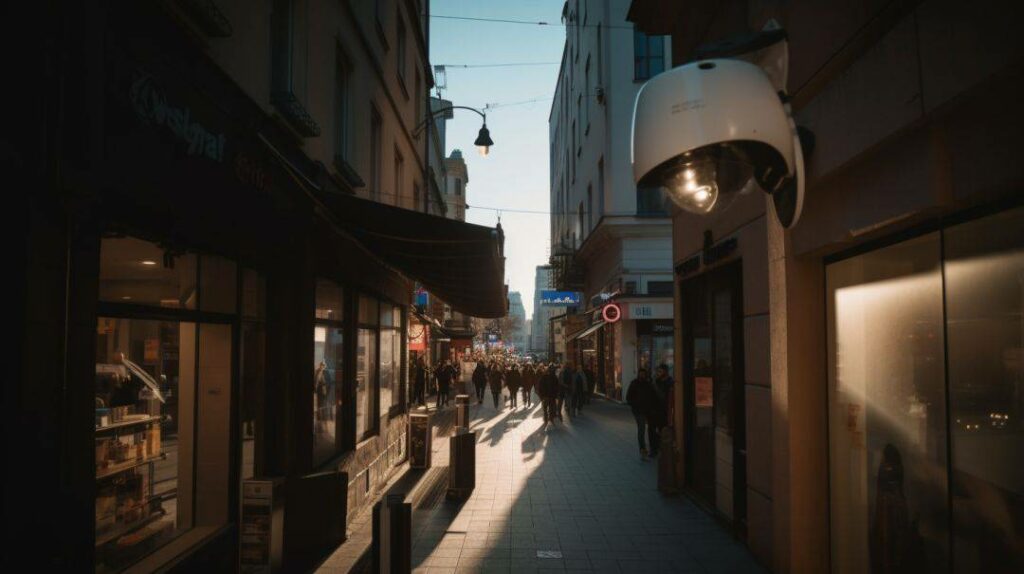 There are many tangible ways security cameras improve business operations and provide a return on investment across industries:
Deter Criminal Activity – Visible surveillance deters theft, and vandalism and protects assets.
Collect Evidence – Footage aids police investigations and provides proof of liability claims.
Enhance Efficiency – Analytics uncover patterns to optimize workflows, inventory management, etc.
Lower Insurance Costs – Documented security earns premium discounts from providers.
Improve Staff Development – Recording interactions help train personnel on best practices.
The Importance of 24/7 Surveillance in Commercial Buildings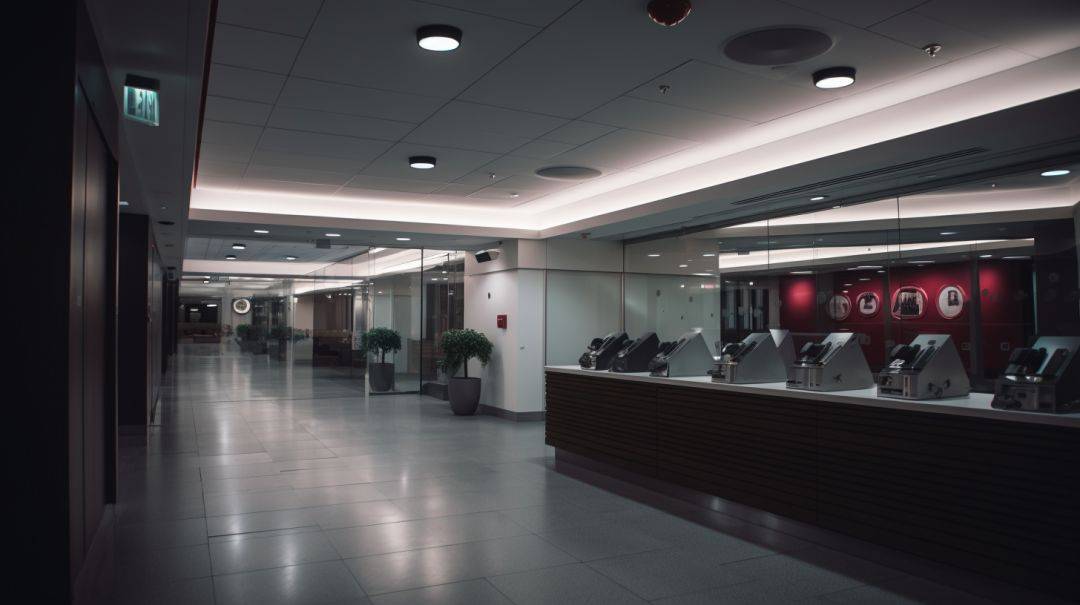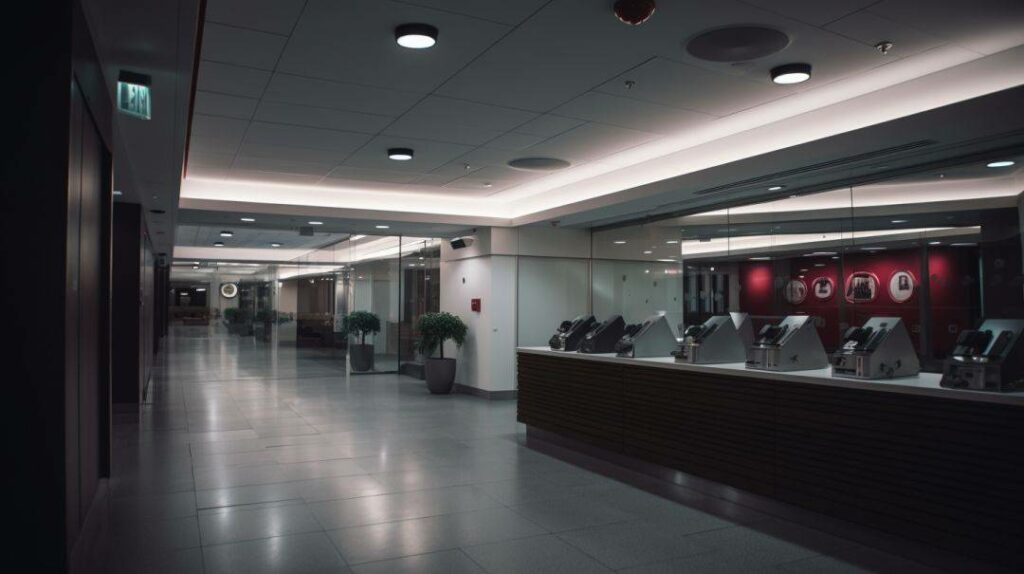 Around-the-clock monitoring is crucial for commercial facilities to protect capital assets. Live oversight also enables rapid response to incidents. Intelligent features like motion alerts and automation ensure surveillance remains active without draining resources.
Installing enough redundant cameras to cover all areas, while building in redundancies for critical components like the NVR and power supply, ensures uninterrupted coverage. Strategically stored off-site backups also guarantee video preservation.
Key Features to Look For in Business Security Cameras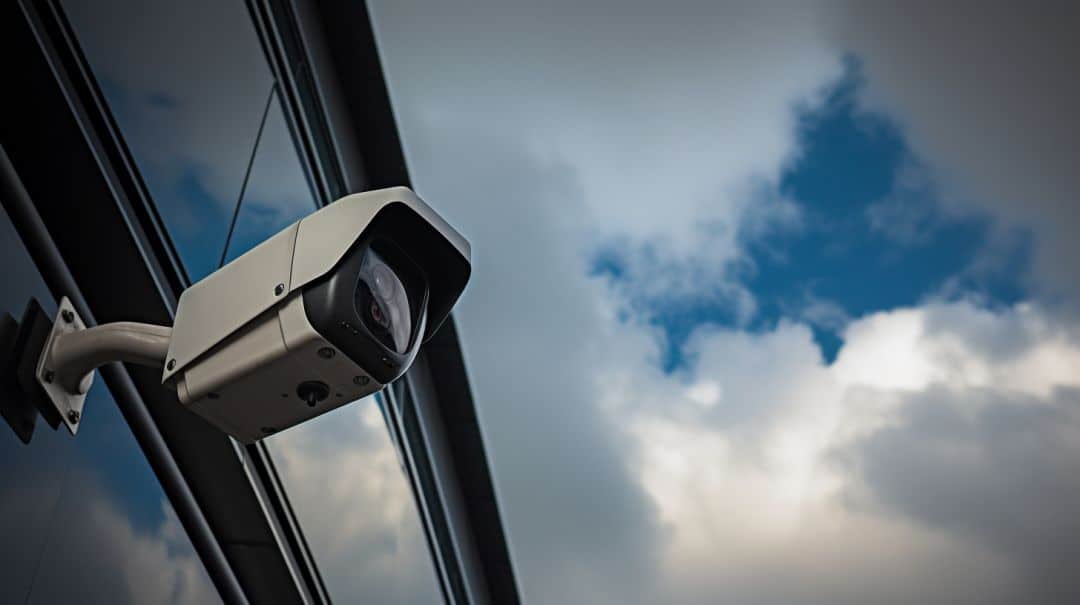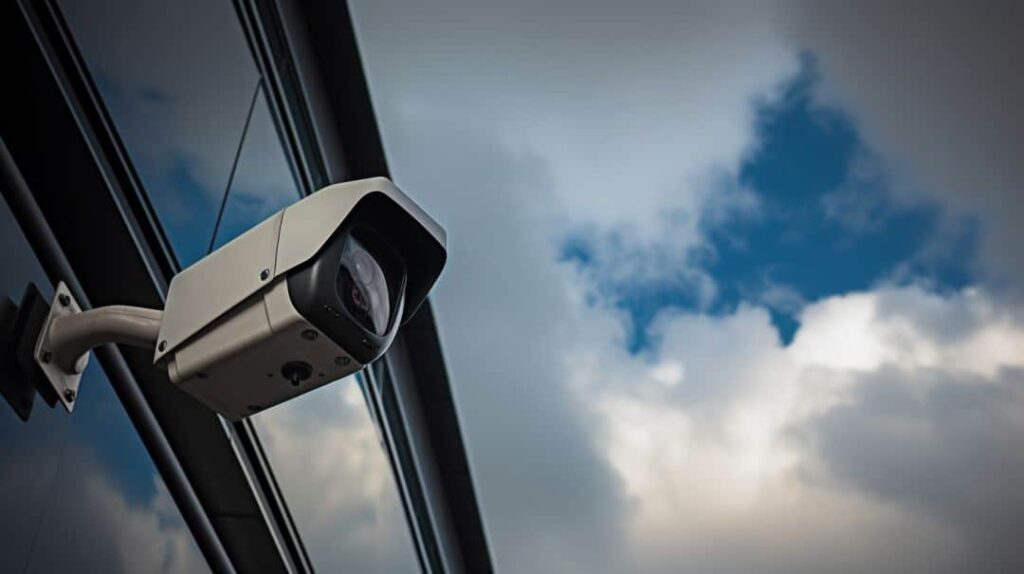 High resolution and frame rate for sharp image quality
Sufficient field of view and wide dynamic range
Tampering and vandalism deterrence
Remote functionality for efficient monitoring
Durability for indoor/outdoor use
Integration capabilities with other systems
Easy installation and maintenance
Scalability to add cameras in the future
Addressing Commercial Security Concerns with Comprehensive Solutions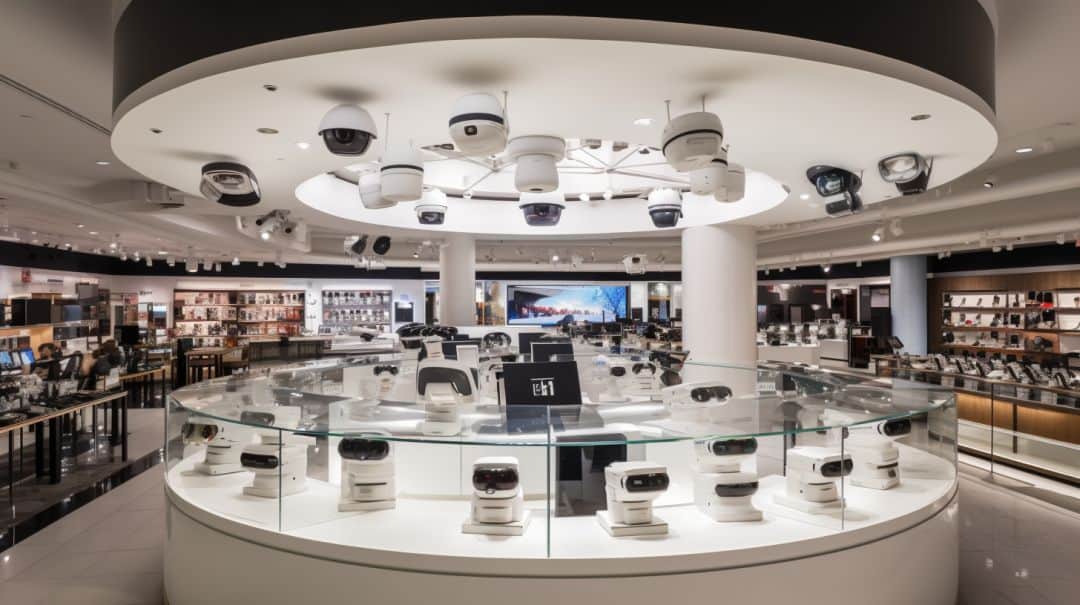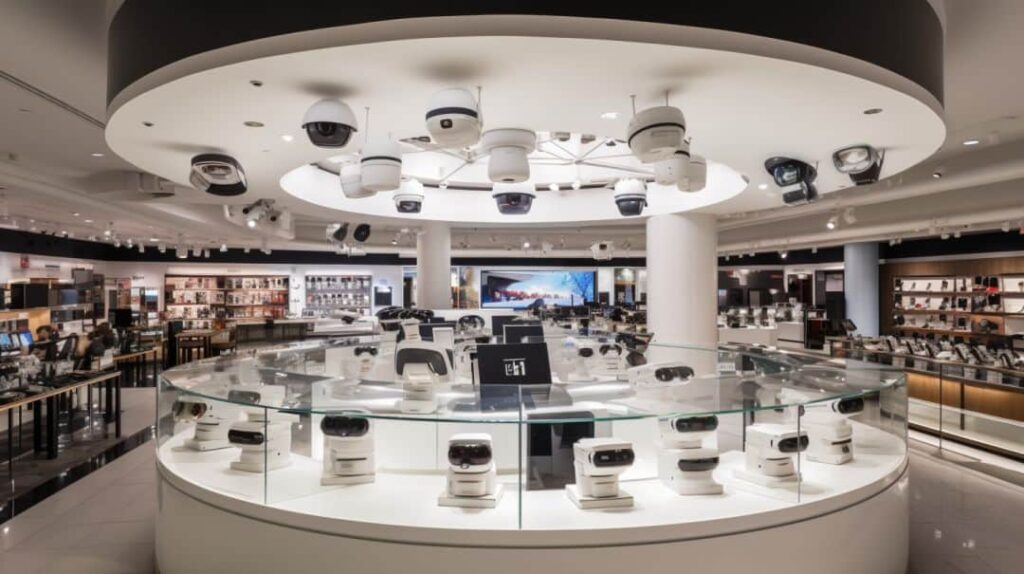 Professional Design and Installation
Expert integrators like Jefferson Security Cameras tailor placement, specs and features to your needs, overcoming facility challenges. They handle permits and integrate with existing infrastructure while proactively troubleshooting issues.
Overcoming Technical Challenges
Trusted installers mitigate concerns like connectivity disruptions, bandwidth limitations, and power supply issues through strategic planning and equipment selection. For example, they may use Power over Ethernet (PoE) switches to simplify wiring.
Ensuring Peak Performance
Proactive maintenance maximizes uptime and longevity. Features like redundant recording prevent data loss. Testing failover mechanisms also confirm full operation if primary systems go down.
Strategizing Camera Placement
Camera positioning should eliminate blind spots while avoiding areas that violate privacy laws. Experienced installers recommend optimal mounting locations and angles given a space.
Understanding the Costs of Commercial Security Camera Systems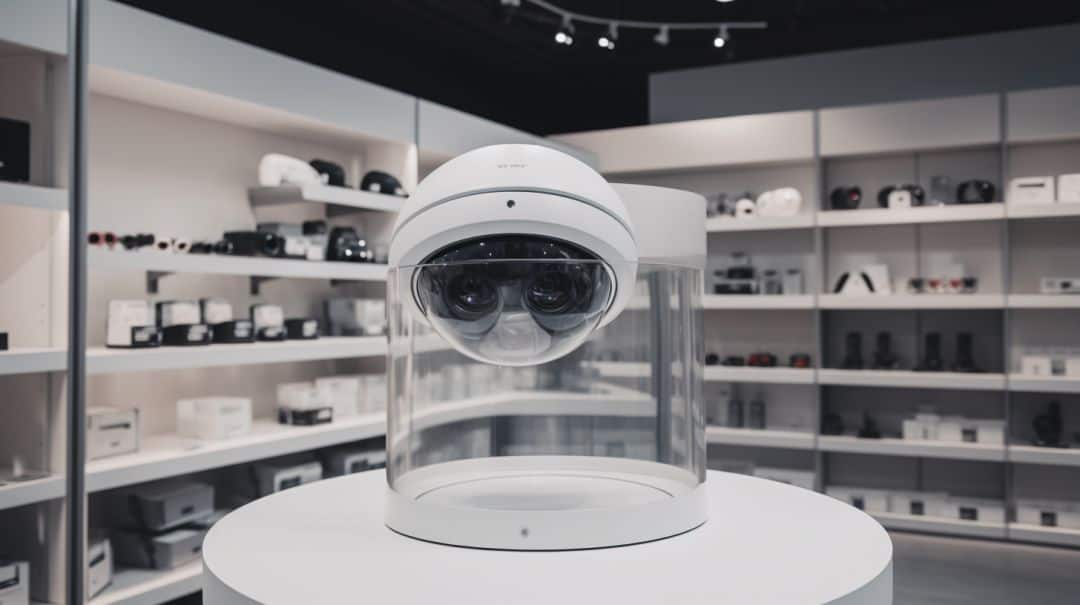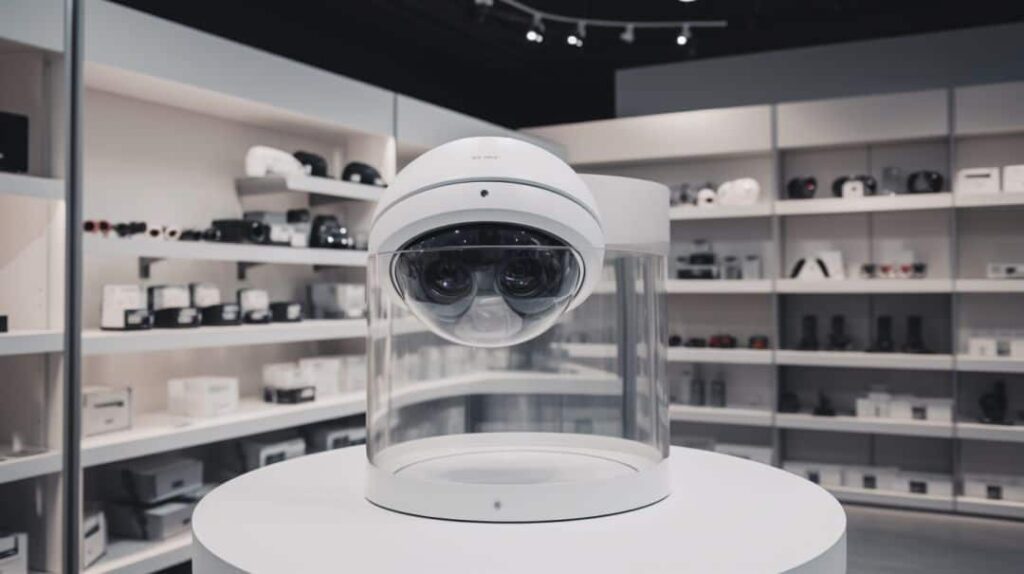 Costs vary based on:
Type and number of cameras
On-site vs cloud storage
Wired vs wireless installation
Video analytics needs
Monthly software and monitoring fees
Future expansion capabilities
Installing incrementally can provide affordable solutions for any budget. Prioritizing coverage of critical areas first allows you to then add cameras for secondary spaces.
Potential Drawbacks and Solutions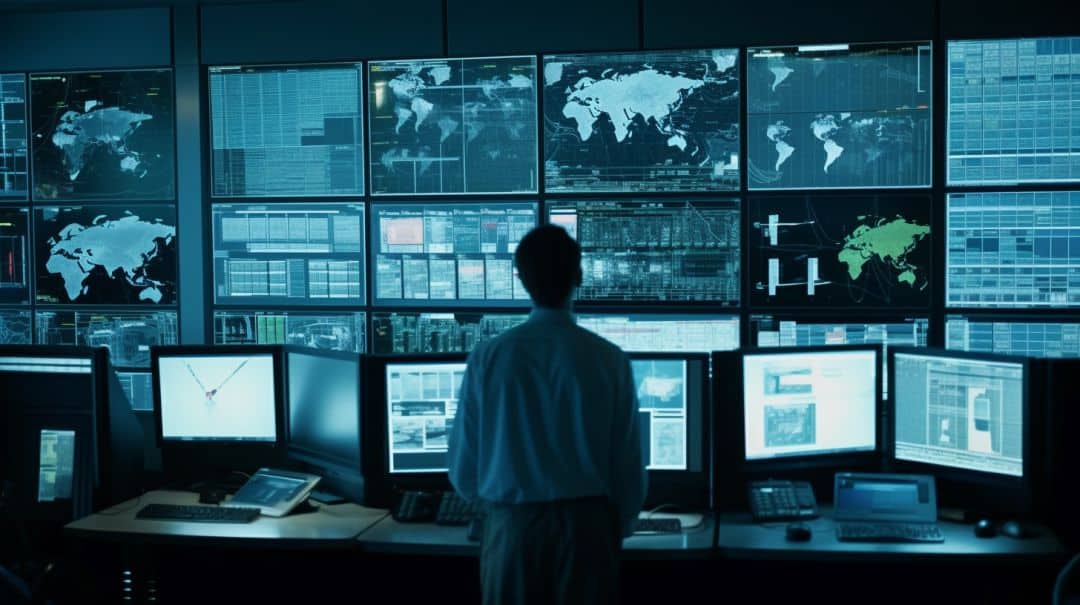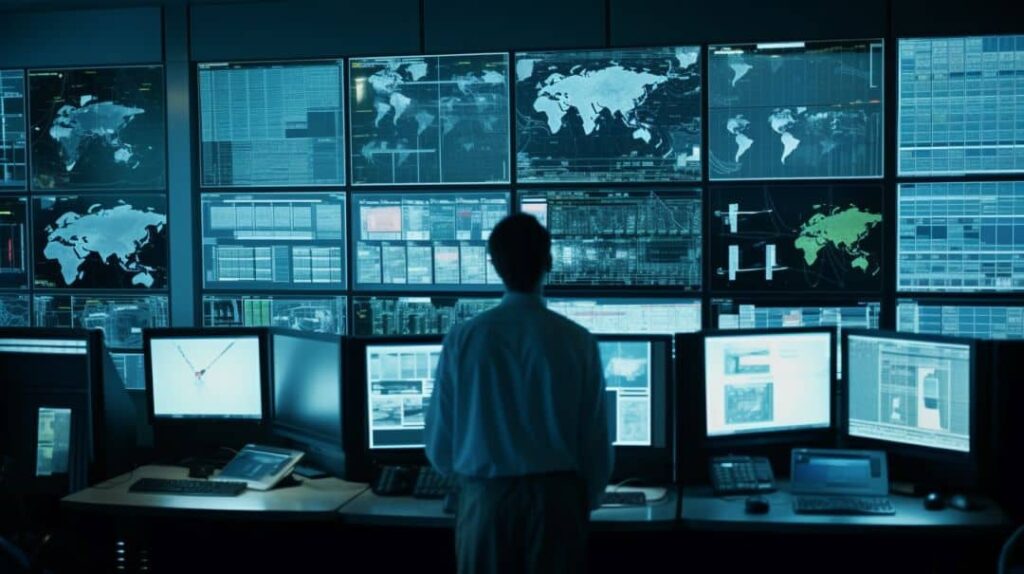 Privacy Concerns
Strategic positioning focuses cameras on property, not people. Signage also informs of surveillance. Strict access controls via passwords and encryption prevent misuse.
Cost Considerations
Starting small and scaling a system allows businesses to spread out costs over time. The ROI in loss prevention and liability reduction typically outweighs expenses.
Technical Difficulties
Professional installation and maintenance by experienced providers like Jefferson Security Cameras ensures optimal performance and uptime. Redundancies avoid failure points.
Cybersecurity Risks
Updates, passwords and encryption protect against unauthorized remote access. Offline backups provide another layer of protection. Storing footage offline also minimizes risks.
Top Reasons Why Security Cameras are a Crucial Business Security Measure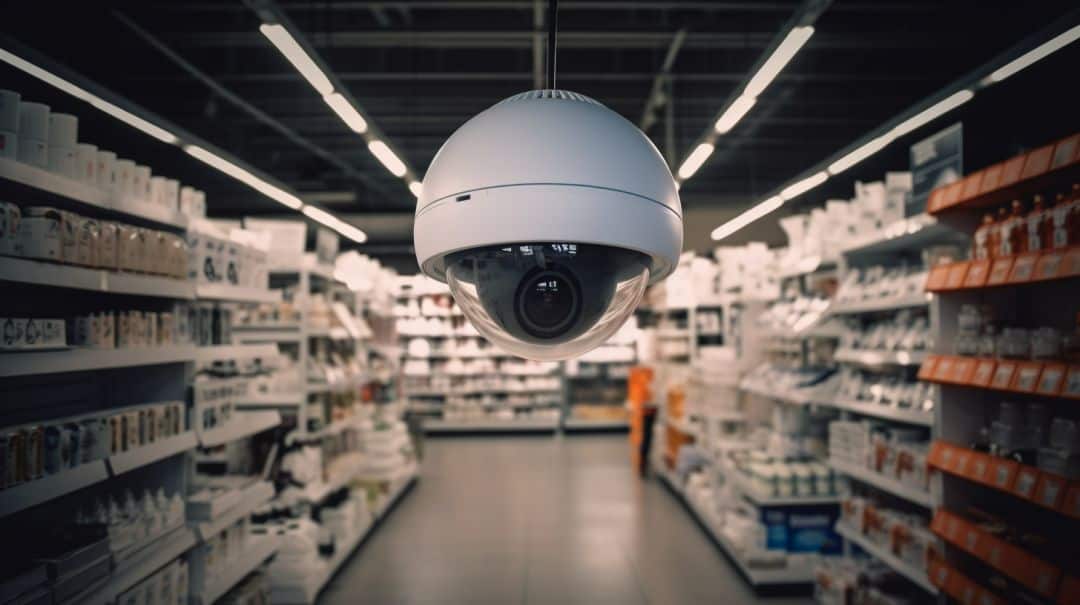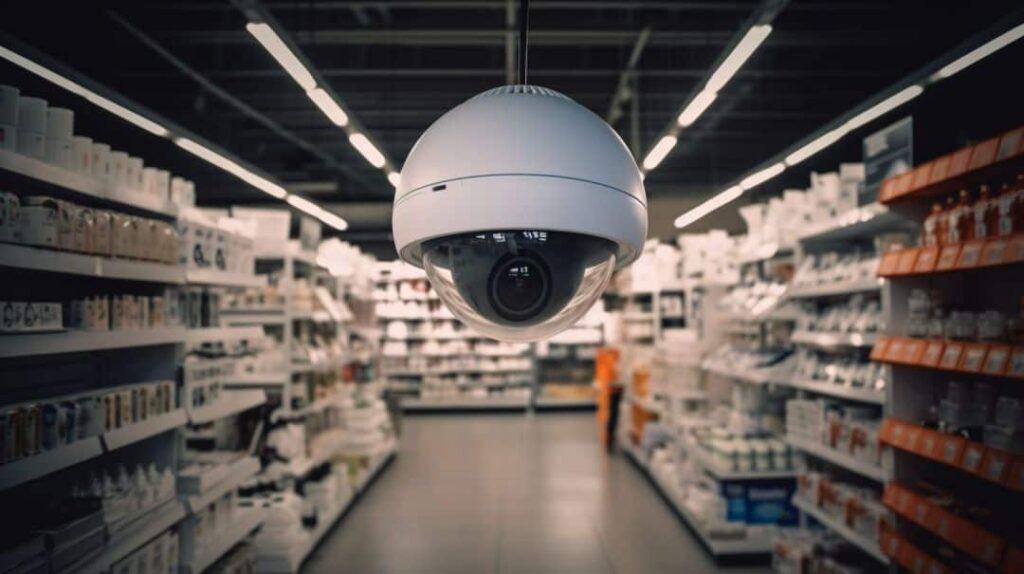 Visible deterrent to crimes like theft, vandalism and unauthorized access
Improved safety for employees and customers
Hard evidence to defend against liability and fraudulent claims
Critical data to optimize operations and training
Rapid incident response capability
Peace of mind from constant monitoring of assets
Useful Integrations for Commercial Security Camera Systems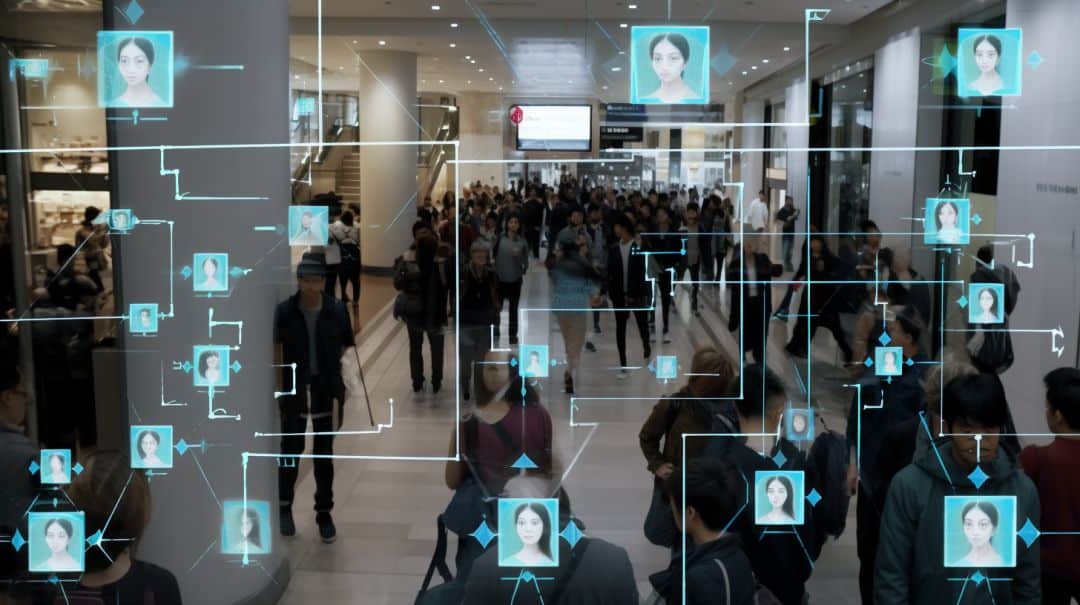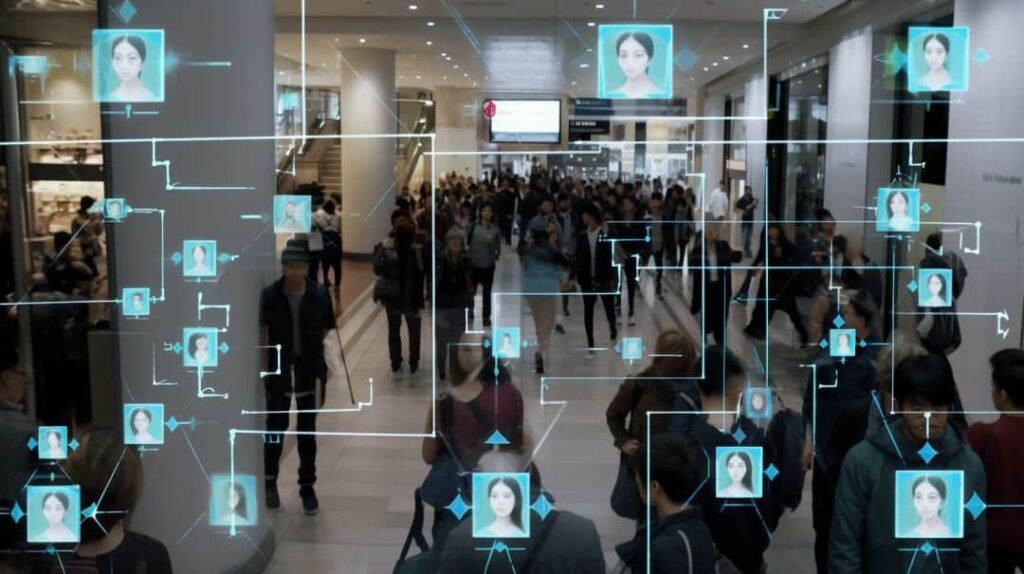 Valuable integrations include:
Access control systems tying camera footage to door entry
POS and inventory systems to connect transactions and stock data with video
Motion sensors to trigger recording based on detected activity
Gunshot detection and audio analytics to identify threats
Back-end systems like email and SMS for real-time alerts
Emerging Trends in Commercial Security Camera Systems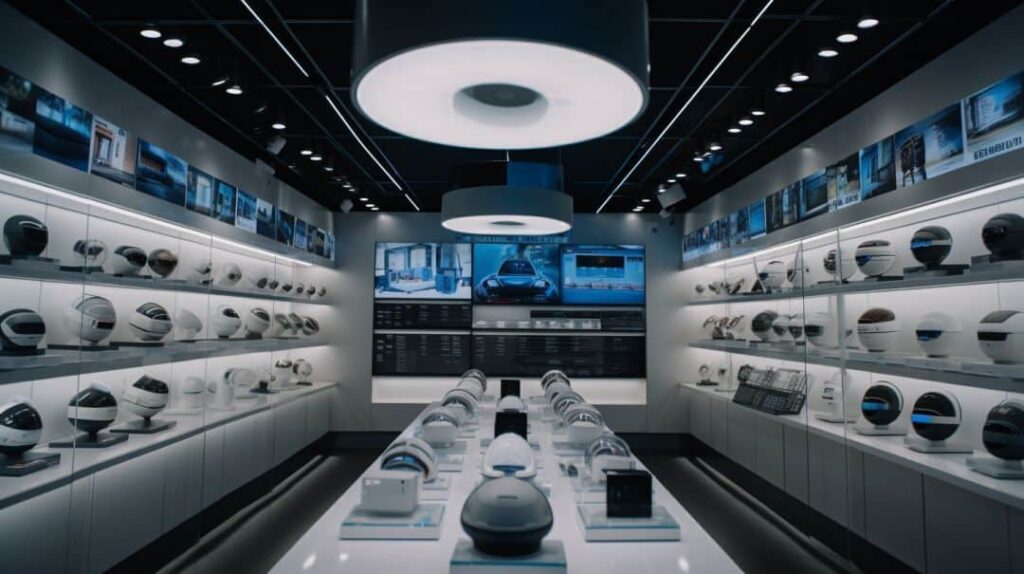 Increased migration to cloud hosting and management
Advanced AI analytics like object classification and subject tracking
Higher megapixel camera resolutions
Greater adoption of audio surveillance and gunshot detection
Drone and body camera integration
Conclusion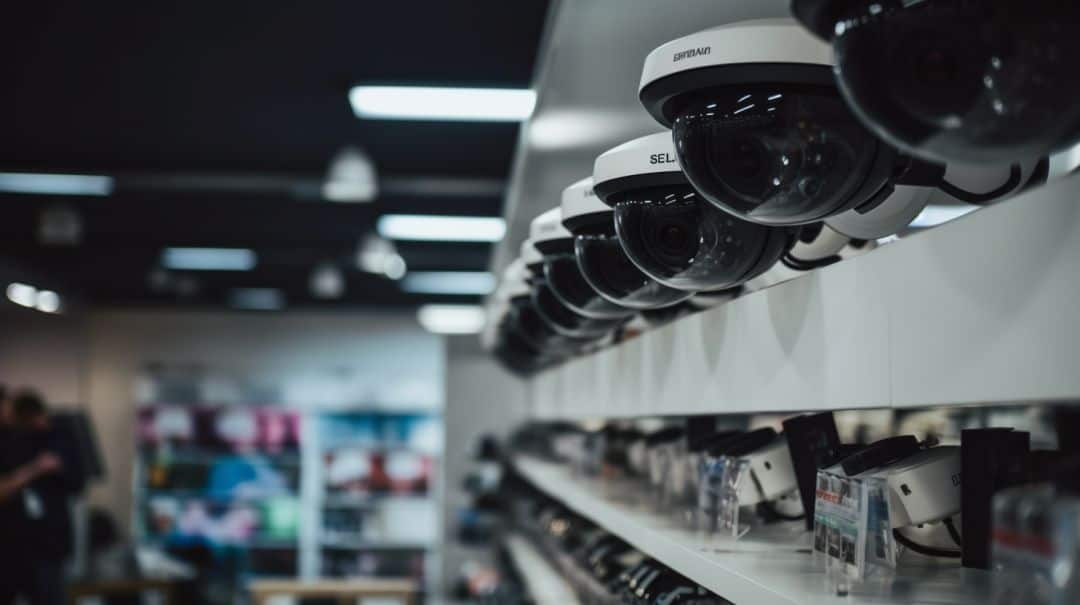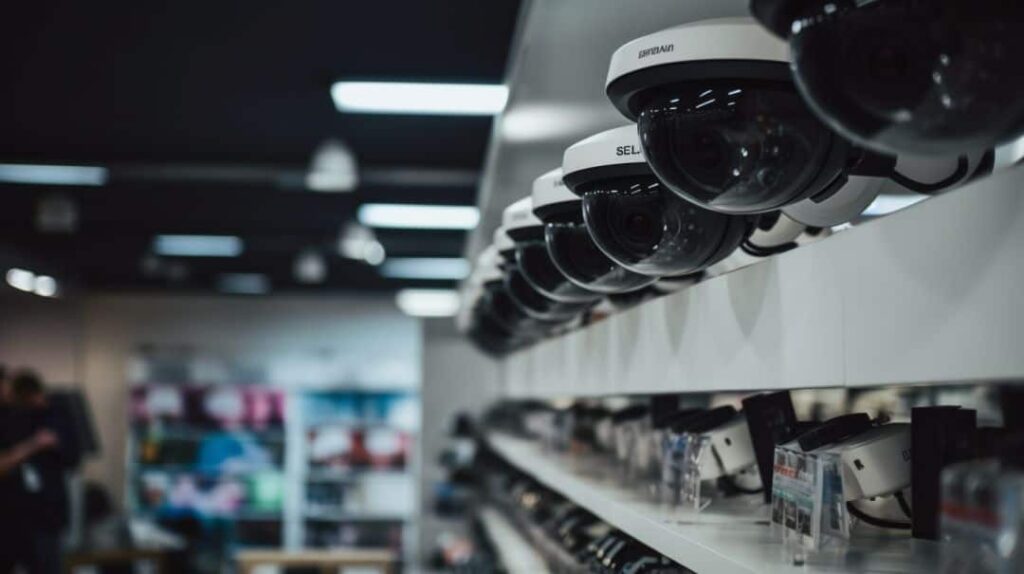 Installing a customized commercial video surveillance system designed for your specific industry and building provides multifaceted advantages. From loss prevention to operational optimization, security cameras deliver value. Following best practices for placement, features and integrations yields the greatest benefits. Partnering with a trusted integrator like Jefferson Security Cameras ensures your system addresses current needs and accommodates future growth.
At Jefferson Security Cameras, we specialize in tailoring comprehensive video surveillance solutions for organizations across industries. For an obligation-free quote on installing a security camera system customized for your commercial building, contact our team or call (267) 662-1423 today. Discover how a strategic security camera installation can enhance safety, productivity and profitability.
FAQs
How many security cameras do I need for my commercial building?
The number of cameras needed depends on the size and layout of your facility. A good rule of thumb is to install cameras covering every entrance, exit, hallway, storage area, and other vulnerable areas. Focus on high-value assets first. An experienced integrator will survey your property and suggest the optimal amount of cameras and positioning to eliminate blind spots.
What features allow security cameras to film clearly in low light?
Cameras with low light capabilities have image sensors that are highly sensitive, capturing usable footage even in dark conditions. Wider apertures and faster shutter speeds also maximize light intake. Infrared/night vision cameras switch to infrared energy outside the visible spectrum to maintain visibility in pitch blackness.
Should I choose cloud or local storage for my business' security camera footage?
Cloud storage offers unlimited, affordable capacity to retain recordings indefinitely. However, local network video recorders (NVRs) allow isolated, offline footage storage for enhanced security. Many systems use a hybrid approach, storing recent footage locally with older video archived in the cloud. This provides redundancy.
What cybersecurity measures should I take to protect my surveillance system?
Use strong, complex passwords and enable multi-factor authentication. Only allow remote access via a VPN. Ensure your cameras and NVR have the latest firmware updates. Store footage offline when possible. Work with your integrator to perform regular cybersecurity audits and penetration testing.
What software features help effectively manage a large network of cameras?
A robust video management system (VMS) centralizes multi-site monitoring and administration. Useful features include subject tracking between cameras, real-time analytics overlays on the footage, global search of recorded video, and priority alert highlighting when reviewing video.
Integrations with access control, POS and inventory systems also help coordinate relevant data with surveillance footage for optimal oversight. Detailed user permissions allow granular access control privileges.