Installing security cameras is one of the best ways to protect your home and provide peace of mind. With so many camera options on the market, it can be daunting to decide what the best security camera system is for your needs. This comprehensive guide will walk you through the key factors to consider when buying security cameras for your home.
A home security camera system acts as a deterrent and surveillance tool. Cameras provide 24/7 monitoring of your property and capture video evidence if an incident were to occur. High-quality security cameras are an investment that pays dividends in enhanced safety and security for your family and belongings.
In this detailed security camera buying guide, we'll cover:
Main types of security cameras
Key features and capabilities
Wired vs wireless installation
Required camera resolution
Local and cloud storage options
Indoor vs outdoor camera features
Number of cameras needed for full coverage
Additional important buying considerations
Leading security camera brands to choose from
Follow along as we break down the most important criteria to factor in when researching home security camera systems. By the end, you'll know what to look for when buying cameras to meet your unique needs.
What Are the Different Types of Security Cameras?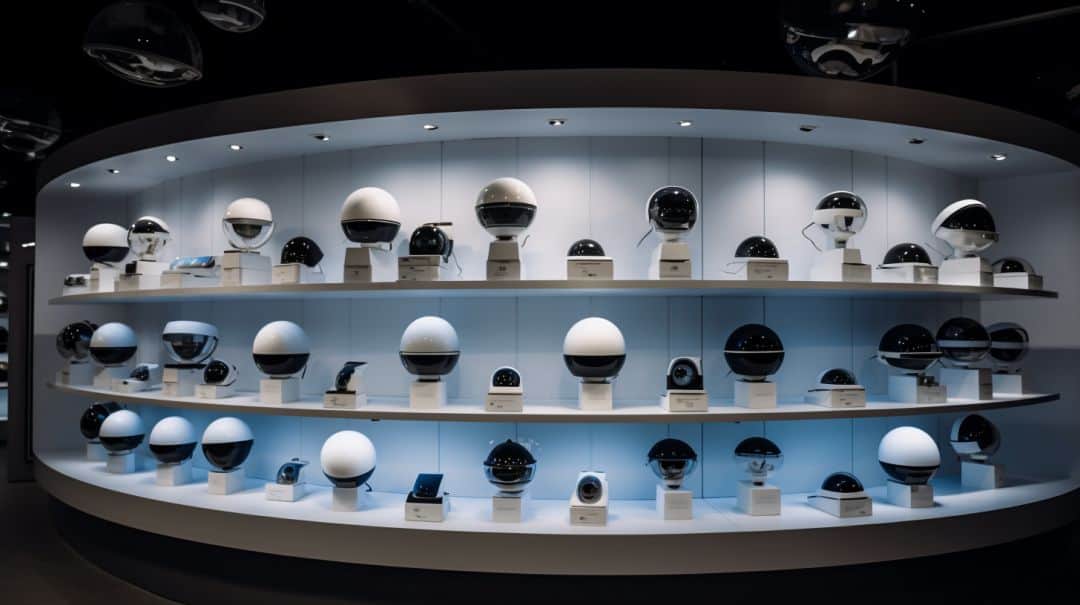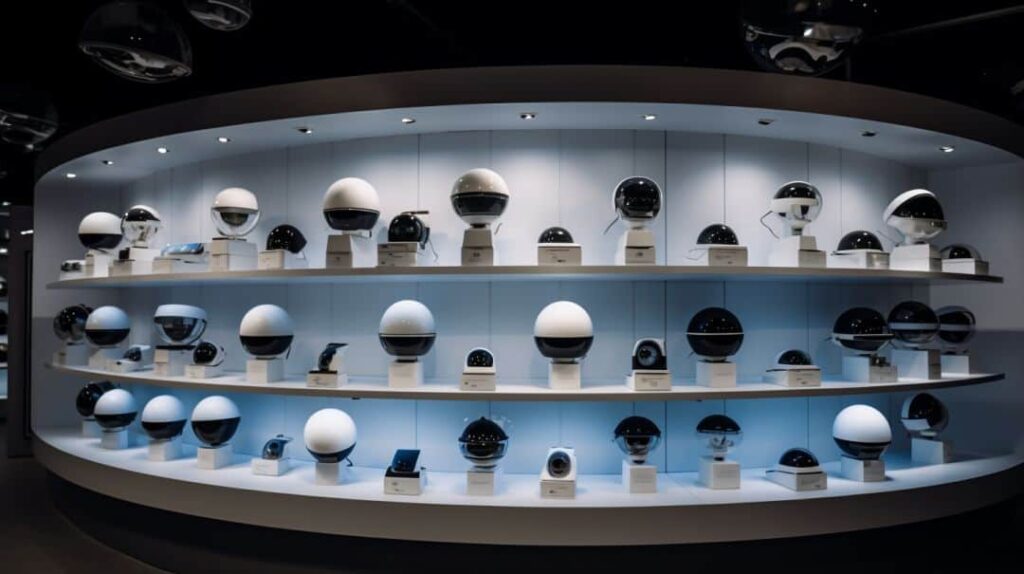 Many types of security cameras exist, each designed for specific applications. Being familiar with the main categories will help you determine the ideal cameras to install where on your property.
Bullet Cameras
Bullet cameras have a long, tubular shape for mounting on walls or ceilings. A bullet-style housing protects the camera lens and internal components while keeping a discreet profile. These cameras provide versatile indoor/outdoor use with excellent range and image quality. The fixed lens angle may require multiple cameras for full area coverage.
Dome Cameras
As the name suggests, dome cameras have a spherical dome casing that houses the camera and lens. The dome shape makes these cameras very discreet and vandal-proof. Most indoor security cameras have a dome design. Outdoor dome cameras are weather-resistant and typically mount on ceilings or walls. The rounded casing can limit field of view.
PTZ Cameras
PTZ stands for pan, tilt, zoom. These cameras can remotely pan 360° to monitor a wide area. They also tilt and zoom in on details. PTZ cameras are ideal for watching large indoor and outdoor spaces with a single camera. The ability to track moving objects is useful for following people or vehicles.
Video Doorbell Cameras
Video doorbells feature a camera, motion sensor, doorbell button, and speaker/microphone built into a single exterior unit. When visitors approach your door, you receive mobile alerts and can see and speak with them through the apps. Doorbell cameras improve security while adding convenience.
Floodlight Cameras
Floodlight cameras have motion-activated LED floodlights paired with a security camera in one outdoor-ready unit. When motion triggers the lights, the camera starts recording color video with illumination on the subject. This is great for monitoring and securing dark areas.
Nanny cams and other hidden cameras are designed to be inconspicuous and blend into surroundings. They can monitor babysitters or be used in office areas. Covert cameras should only be used ethically and legally after disclosing their presence.
Body Cameras
Worn by law enforcement, body cams capture first-person video and audio of interactions. The footage provides an objective record of events to settle disputes and capture evidence. Some home security cameras now offer body cam capabilities.
Wireless Camera Options
Many modern security cameras have wireless connectivity for flexible and portable installation. Battery-powered or solar-powered wireless cameras can be mounted anywhere without wiring. Outdoor wireless cameras often transmit data to a wired NVR recorder or Wi-Fi base station.
Key Features and Capabilities to Look for in Security Cameras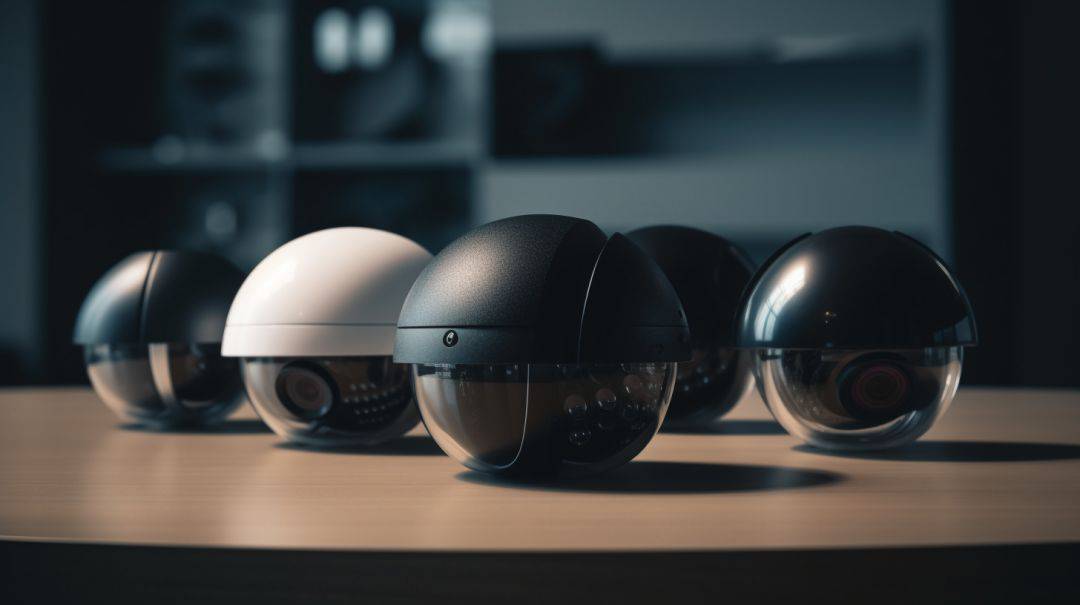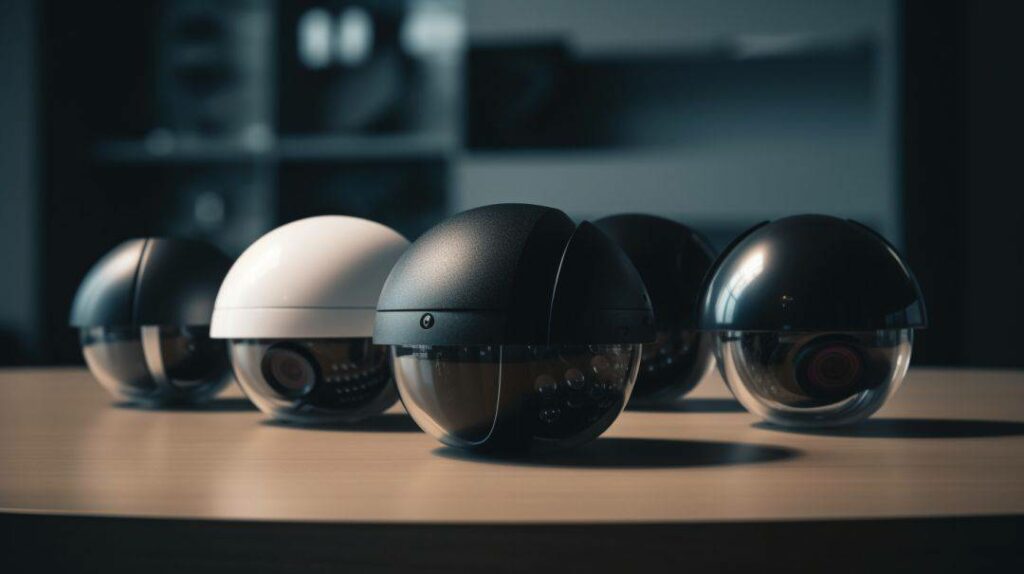 Beyond the camera type, dig into the product details to understand what features and specs it offers. Prioritize capabilities that are essential for your installation goals and environment.
Video Resolution
The video resolution indicates how clear and detailed the camera footage will be. For recognizable facial and license plate details, look for 1080p high definition or 4K ultra HD resolution. Avoid outdated low resolution analog systems. Higher resolution directly impacts storage needs.
Night Vision Technology
Any outdoor camera you choose should have excellent night vision capability with infrared illumination. Look for the night vision range to ensure the camera can see far enough in the dark. IR LEDs allow 25-100 ft or more of black/white night vision. Top models may also have color night vision.
Field of View (FOV)
The field of view determines how wide of an area the camera covers. Indoor cameras usually need a 90-130° FOV while outdoor cameras should have a 100-150° FOV to see more of the yard or driveway in one view. Ultrawide 180° FOV provides full room coverage. Consider the optimal FOV for placement.
Zoom Capabilities
Cameras with optical zoom lenses allow you to zoom in on details in the view for a closer look. This is useful for reading labels from a distance or seeing farther into the distance. Look for optical zoom lenses that can magnify the view 2x or 4x without quality loss.
Motion and Activity Detection
Basic motion sensors detect movement within the camera's view and trigger recording and alerts. For fewer false alarms, choose smart cameras with customizable motion zones and intelligent sensing. More advanced models have human and vehicle detection.
Smart Assistant Integration
Many security cameras now integrate with smart home platforms like Amazon Alexa, Google Assistant and Apple HomeKit. This allows for handy voice control and automation with the rest of your smart devices. Voice commands enhance the convenience and accessibility of your camera system.
Remote Camera Access
The ability to view security camera feeds and recordings remotely is one of the key advantages of modern IP camera systems. Confirm cameras enable accessing live views anytime via smartphone apps and web portals for on-the-go monitoring.
Two-Way Communication/Audio
While less common, some security cameras have built-in microphones and speakers for two-way voice communication. This enables you to warn trespassers or confront intruders from a safe distance as you monitor the cameras. Two-way audio also enhances general system utility.
Local Storage with NVRs
For reliable continuous recording without relying on connectivity, choose a system with local storage capabilities. This includes standalone NVR recorder units or individual camera microSD card slots. Local storage gives you full ownership of the video footage.
Weather and Vandal Resistance
Any outdoor security cameras must withstand your climate's weather and temperatures. Look for IP66 or IP67 rated water resistance, operating temperature ratings down to -4oF or below, UV-resistant housings, and durable metal body materials. A vandal-proof IK10 rating means the cameras can endure impacts and tampering attempts.
Key Considerations: Wired vs Wireless Security Cameras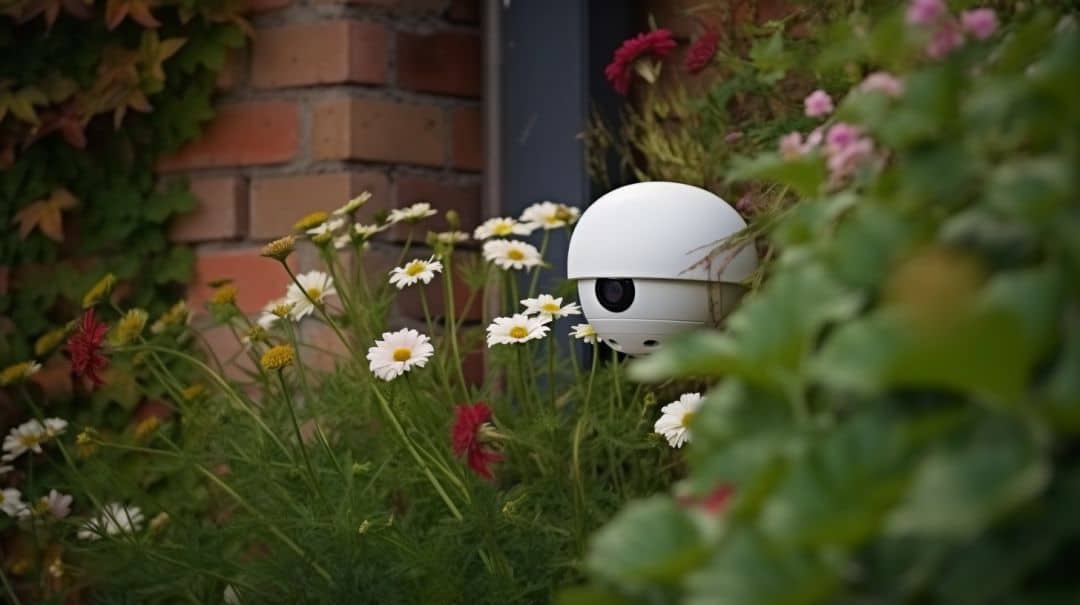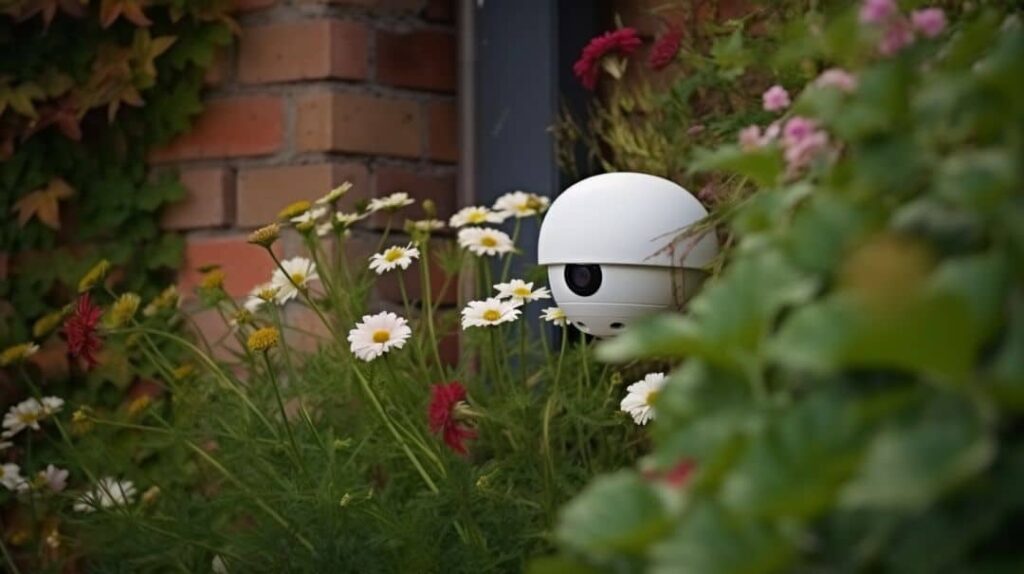 One of the first choices to make when buying a security camera system is deciding between wired or wireless cameras models. Each option has pros and cons to weigh for your specific needs.
Hardwired Security Cameras
Wired security cameras connect directly to your home's electrical and network cabling. Running the cabling takes more effort during initial installation but hardwired cameras provide advantages like:
Constant power supply from outlet wiring
More secure – no wireless signals to intercept
Higher maximum video resolution potential
Less signal interference issues
Can operate even without WiFi/internet access
No batteries to recharge or replace
Overall, hardwired cameras are better suited for permanent outdoor installation and surveillance applications requiring optimal reliability.
Wireless Security Cameras
Wireless security cameras offer benefits like:
Very quick and easy "DIY" installation
Can be flexibly moved and repositioned
Install virtually anywhere without wiring
Great for renters and portable use
More modern sleek designs that blend into décor
The downsides of wireless cameras include resolution limitations, higher operating costs, and potential interference problems. Maintaining battery power is also a consideration.
For most homeowners' needs, convenient wireless cameras are recommended, but evaluate your installation requirements. A combination of wireless and wired cameras may provide the right balance of flexibility and reliability.
What Video Resolution Should Your Cameras Capture?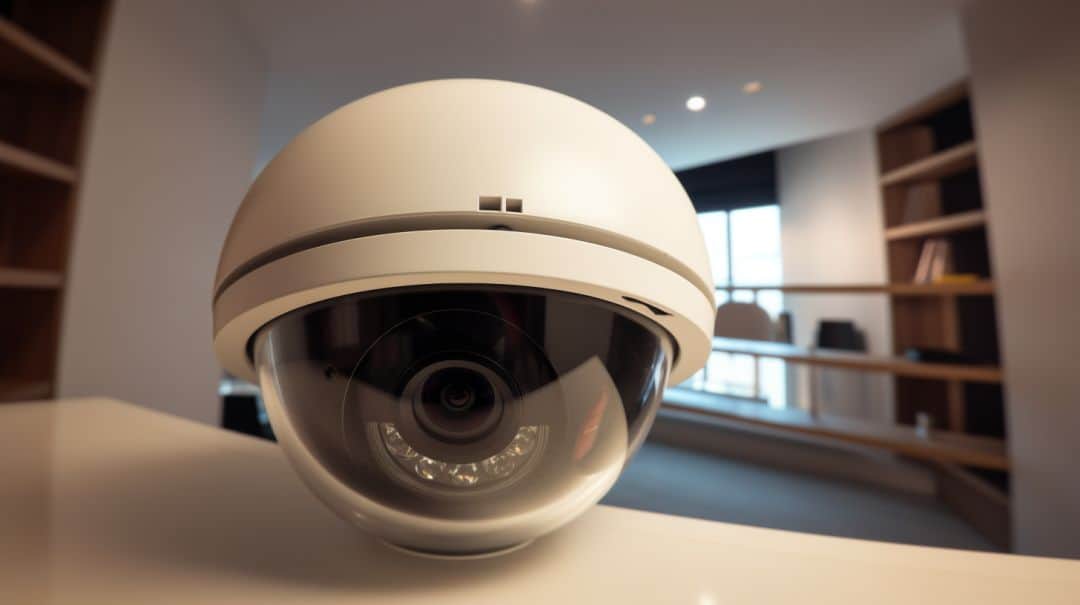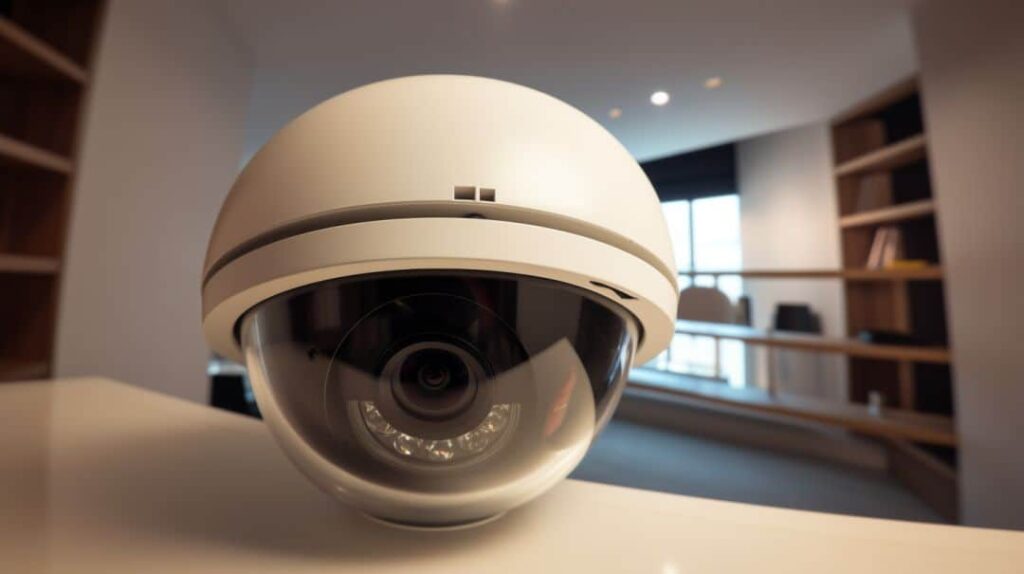 Video resolution indicates the amount of detail a security camera captures based on pixel dimensions like 1920x1080p. Higher resolution provides clearer images and video. Look for 1080p or 4K cameras.
1080p Security Cameras
1080p resolution is the HD standard for most modern IP security cameras. The high definition 1080p video provides ample clarity for identifying faces, license plates at driveways, clothing colors and more day or night. This resolution is suitable for covering typical-sized areas.
4K Security Cameras
4K cameras capture ultra high definition 3840×2160 video for the sharpest level of detail. 4K offers four times the resolution of 1080p. These cameras reveal fine details like eyelashes and pore skin textures. 4K resolution is ideal for watching very large, open areas or reading distant license plates.
Analog CCTV Cameras
Avoid analog CCTV cameras still using old interlaced 480i/480p resolution. These cameras have significant quality and performance limitations compared to modern IP camera systems. Unless you must retrofit into an existing analog system, opt for 1080p or 4K IP cameras.
While higher resolution is generally better, it also increases bandwidth, storage, and data requirements. Make sure your network, storage solution, and budget allow for the demands of higher resolution cameras.
Local Storage with NVRs vs Cloud Storage for Security Cameras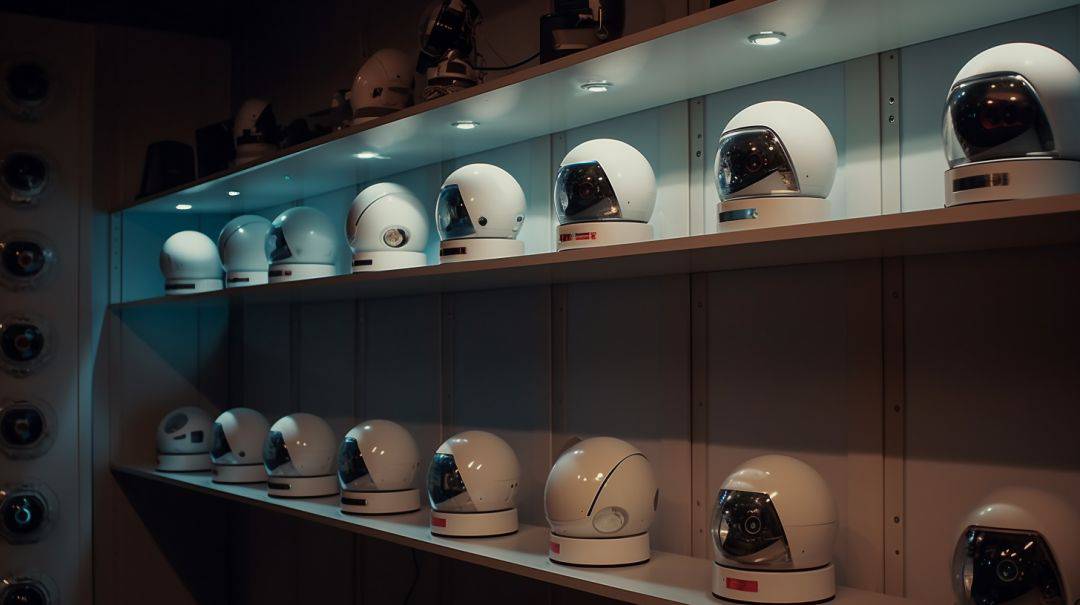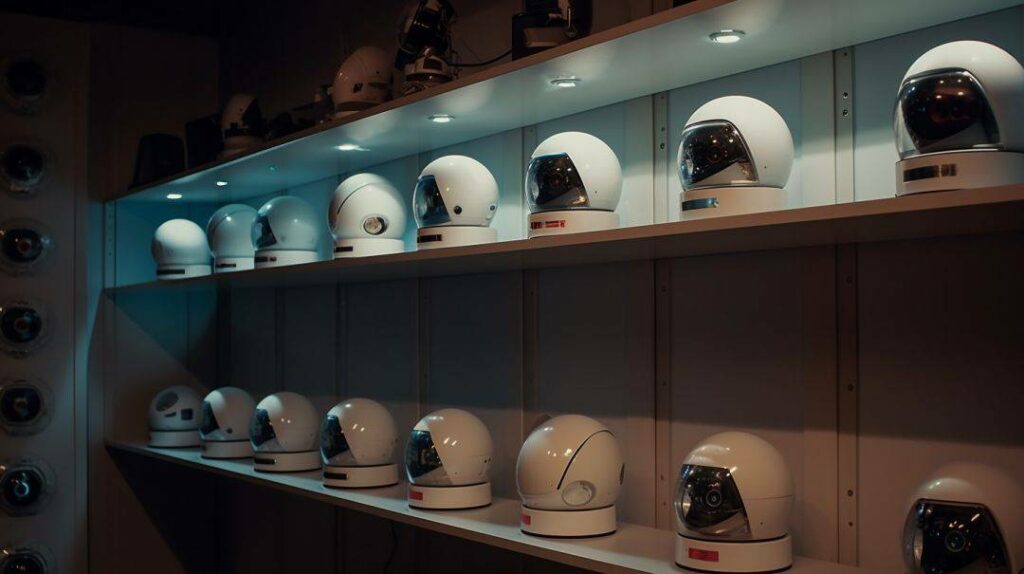 Storing and managing the video footage recorded from your home security cameras is a key consideration. There are pros and cons to local NVR storage compared to cloud-based storage.
Local NVR Storage
For continuous 24/7 recording, local network video recorder storage enables reliable camera operation even without internet connectivity. Robust NVR systems are available to support multi-camera recording in HD quality.
However, expanding NVR storage capabilities is more complex and expensive. You also need physical access to the recorder to retrieve footage which may be inconvenient if you're away from home. Relying solely on local NVR storage has downsides.
Cloud Storage
With cloud storage services, recorded video is securely transmitted to remote servers and accessed online via apps or web portals. This makes accessing archived footage more flexible and convenient from anywhere. Expanding cloud storage is fast and budget-friendly.
On the other hand, any internet outage would disrupt recording and access. There are also monthly fees associated with most cloud storage services. Privacy of your camera data is a consideration with third-party cloud platforms.
Recommended Hybrid Approach
The ideal setup for most homeowners is having security cameras that support both local NVR and cloud storage options. This hybrid approach gives you redundancy if one method becomes unavailable. You retain full control of video data while also leveraging convenient cloud access.
Determine how much storage space you need based on video resolution, number of cameras, and desired retention period. Aim for at least 2 weeks of storage minimum. Calculate required hard drive size for NVR systems at 2-4TB per 1080p camera recording 24/7.
Key Indoor vs Outdoor Security Camera Features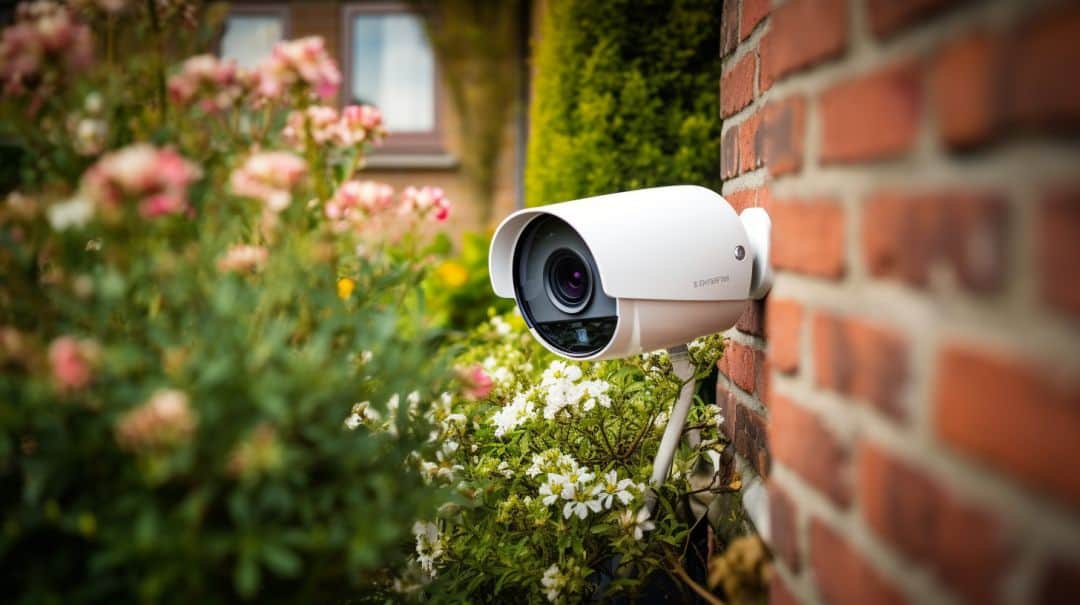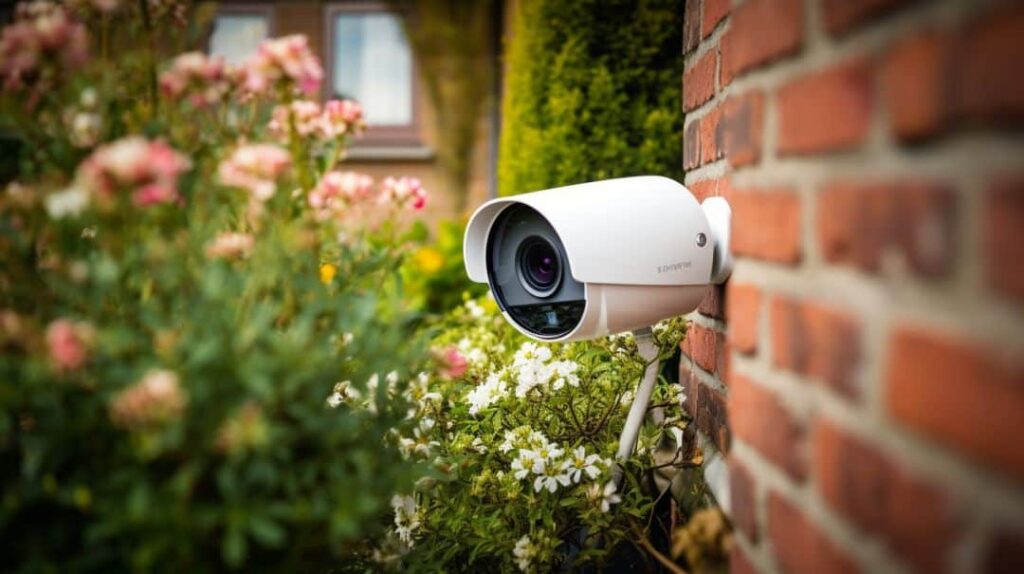 Certain security camera features are tailored for optimal performance in specific environments. Here's how indoor and outdoor camera specs differ.
Indoor Camera Features
For monitoring interior rooms and entryways, look for these helpful features in indoor security cameras:
Wide 90-130° field of view
Night vision up to 30 feet with IR LEDs
Compact, discreet housing design
Motion activated recording
Remote pan/tilt functionality
IFTTT integration or voice assistant compatibility
Onboard microphone and speaker for two-way audio
Having the right set of features optimized for indoor use ensures your cameras provide reliable visibility and recording inside your home.
Outdoor Camera Features
When installing security cameras outside your home, essential outdoor specs include:
Weatherproof IP66 or IP67 rated housing
Operating temperature range down to at least -4°F
Vandal and tamper-resistant casing
Infrared night vision range up to 100 feet or more
100-150° wide field of view angle
Built-in LED floodlights on select cameras
LTE cellular connectivity options for remote sites
Prioritize outdoor cameras designed to withstand your climate while delivering top-notch image quality in all conditions.
Determining the Right Number of Security Cameras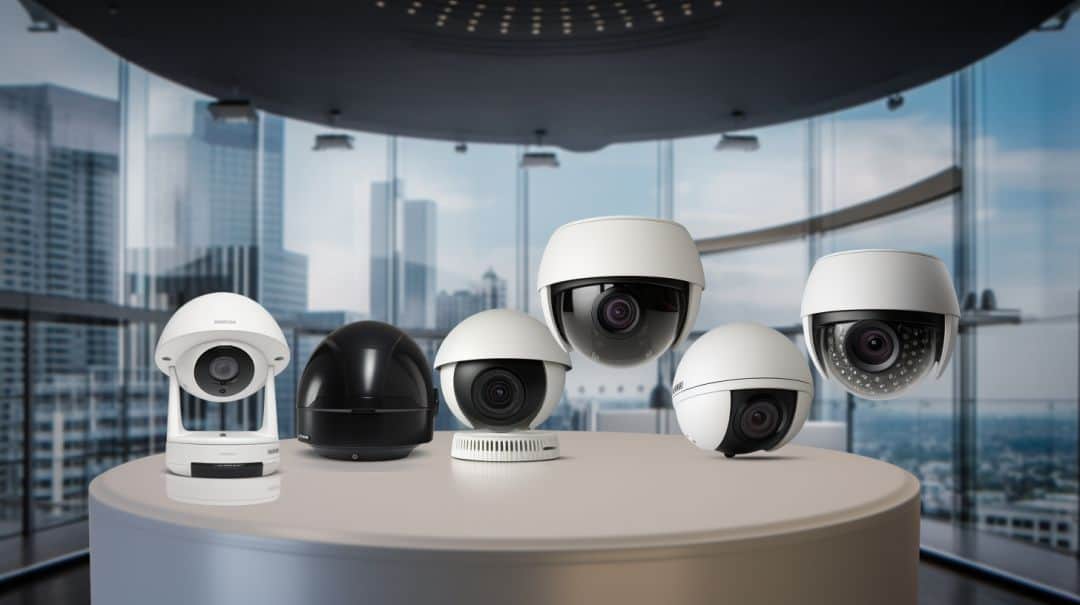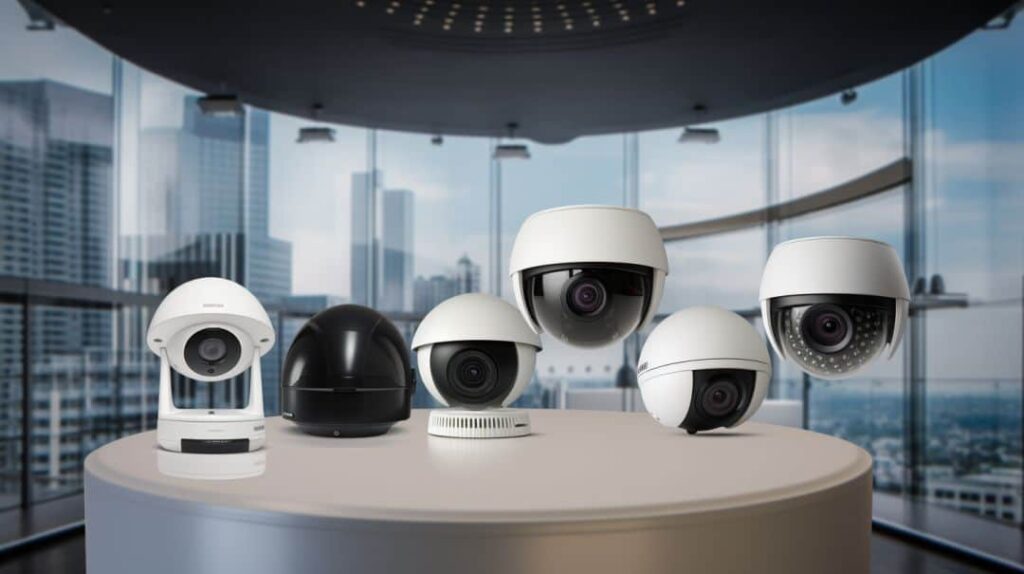 Finding the optimum number of security cameras comes down to:
Square footage of your property
Number of access points and key areas you want to monitor
Budget for equipment and storage
Maximum capacity of your NVR storage solution
Whether you need full perimeter and interior monitoring
As a general guideline for most homes:
Entrances: install cameras covering every exterior entryway.
Perimeter: have cameras monitoring driveways and back/side yards.
Interior: add cameras in main living spaces and high-value rooms.
Full coverage: wide angle cameras watching entire first floor spaces.
Larger properties may require additional cameras. Use our security camera planning map to mark ideal camera placements. Properly positioning the right number of cameras eliminates blind spots.
Additional Buying Considerations for Security Cameras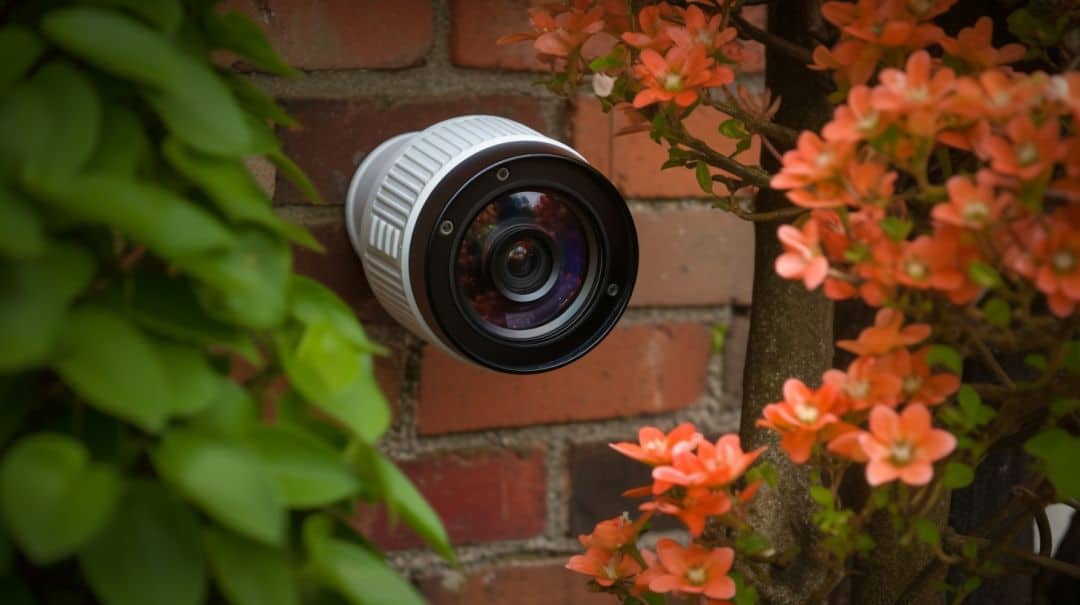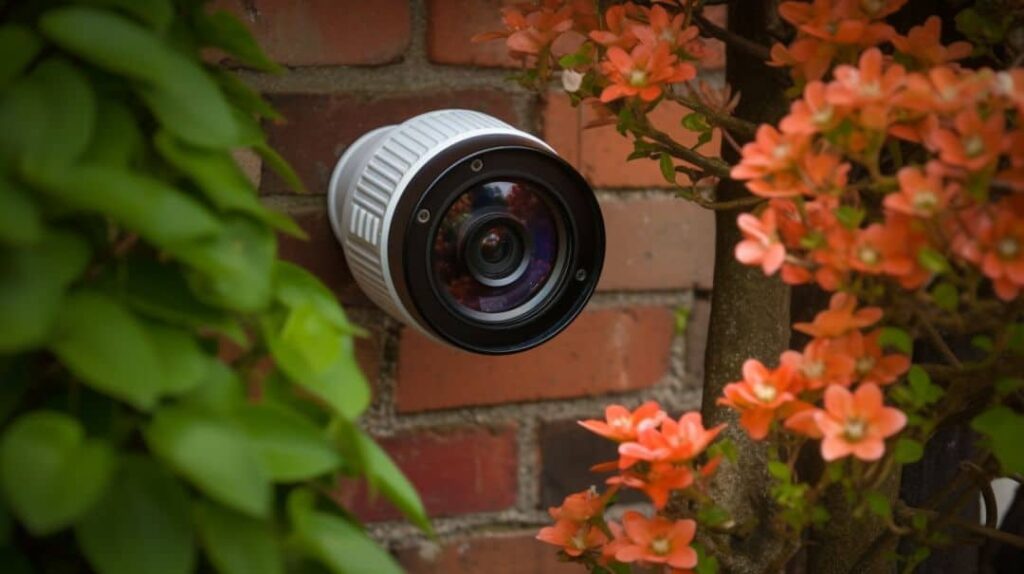 Beyond the primary camera features and specifications covered already, keep these additional buying factors in mind:
Power Source
Hardwired security cameras pull power directly through the Ethernet cable. Battery-powered cameras need regular charging or battery swaps. Some offer solar charging capabilities for indefinite operation.
Audio Quality
If two-way voice communication is a priority, test that the camera speaker and microphone provide clear audio. Multi-microphone beamforming focuses sound reception.
Mobile App Platforms
Check that the security camera system includes mobile apps for iOS and Android and possible web app access. This allows easy live monitoring away from home.
Customer Support
Look for security camera brands known for helpful customer support in case you require troubleshooting or technical assistance during setup or operation. Support responsiveness can make or break the experience.
Warranties
Multi-year warranties (2-5 years) on security camera equipment demonstrate confidence in build quality and cover you in case of defects. Warranties average 1-3 years.
Expandability
If you intend to expand your system later, make sure the additional cameras you buy today will be fully compatible and integrate well together on the same platform.
Top Home Security Camera Brands to Choose From
Sticking with well-known security camera brands that hundreds of thousands of consumers trust is recommended over taking a risk on lesser-known companies. These are some of the top brands to consider across different price points:
Arlo – Leader in wireless systems. Packed with features and solid app platform.
Ring – Affordable, user-friendly lineup including video doorbells.
Nest – Top-rated for design and intelligent motion alerts. Google owned.
Lorex – Complete wired and wireless systems with robust NVR storage.
Zmodo – Value-priced systems offer surprisingly advanced capabilities.
Wyze – Inexpensive but functional cameras with free 14-day storage.
Swann – Reliable wireless cameras with long battery life.
Do thorough research before purchasing to confirm performance, quality, and app functionality match your needs. Studying hands-on customer reviews helps avoid disappointing devices.
Summary – The Complete Security Camera Buyer Checklist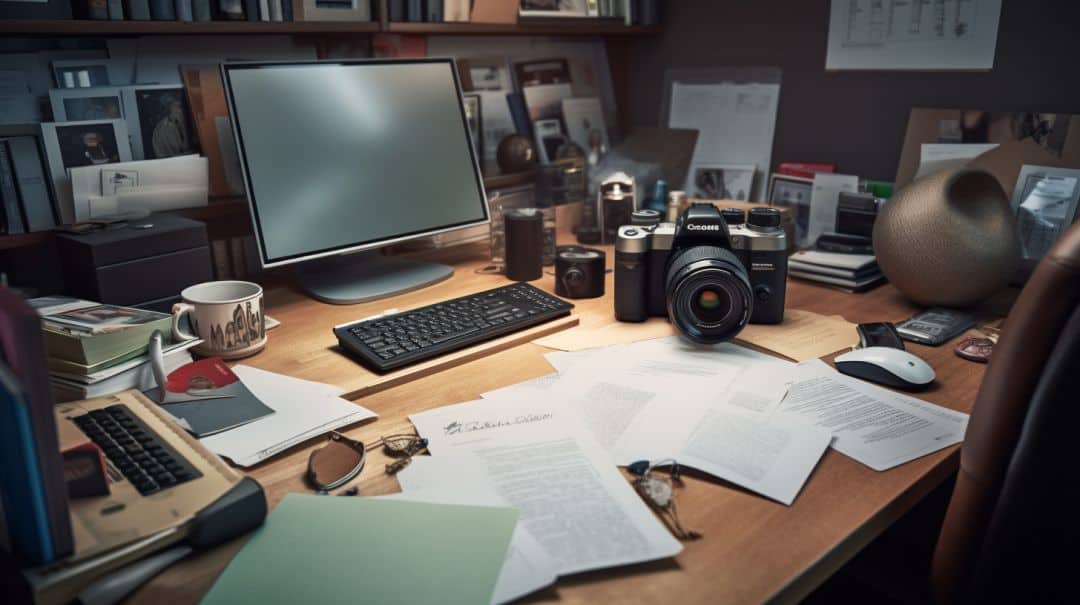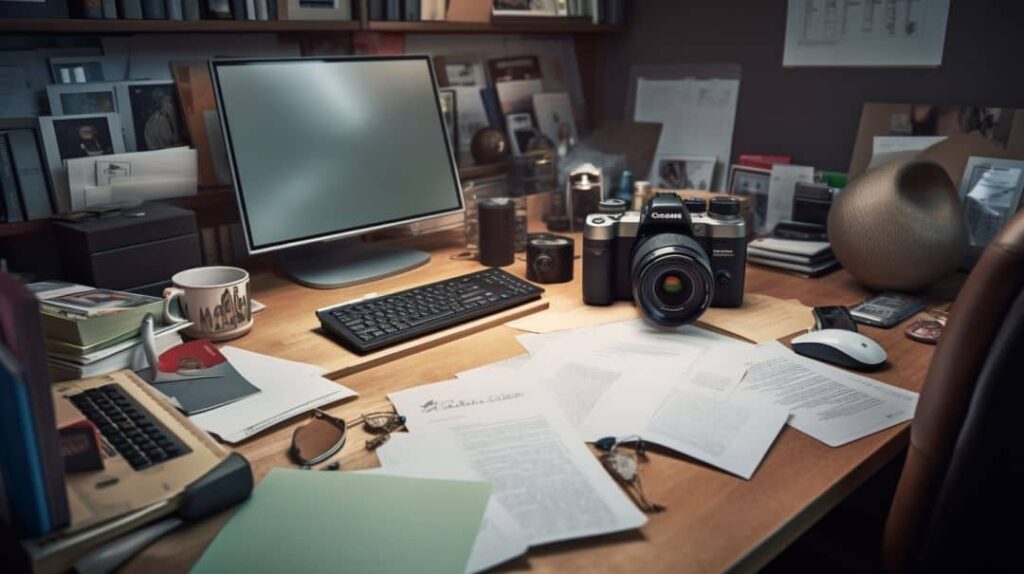 Here is a summary checklist of the key factors covered to keep top of mind during your security camera research:
Camera types and technologies (dome, bullet, PTZ etc)
Resolution needed – 1080p or 4K
Wide field of view for maximum visibility
Night vision range, clarity, and technology
Local storage NVR system capabilities
Cloud storage features and monthly costs
Weatherproofing rating for outdoor models
Operating temperature range based on climate
Total number of cameras needed for full coverage
Wired Ethernet or wireless installation
Power source type (rechargeable battery, solar, wired)
Mobile app platform availability for your smartphone
Optional two-way audio communication ability
Smart home integration works with your existing ecosystem
Warranty period and customer support reputation
Manufacturer brand reputation and transparent business practices
This comprehensive security camera buying guide covers the key factors to help you make the right choice for your needs. Be sure to measure your property and map out proposed camera placements. Read independent reviews and do careful research before purchasing to maximize satisfaction. Enjoy the peace of mind and convenience a home security camera system provides.
FAQs
What is the best resolution for most home security cameras?
For a balance of quality and storage needs, 1080p HD resolution is recommended for most home security cameras. This provides sufficient detail while being more affordable than higher 4K resolution. Outdoor cameras watching large areas benefit more from 4K.
Do security cameras work without WiFi?
Most modern security cameras require a WiFi connection to access features like streaming video and controlling the camera remotely through apps. However, many security systems also record footage locally to an NVR. This allows cameras to continue recording at all times even with an internet/WiFi disruption.
Can thieves hack into security cameras?
Like any connected device, security cameras can be vulnerable to hacking, especially less secure WiFi models. To minimize risk, use cameras with encrypted transmissions, complex passwords, no default login credentials, and latest firmware updates. Wired cameras are most secure.
Do security cameras need motion sensors?
Cameras typically have built-in video motion detection or PIR motion sensors to detect movement and trigger alerts and recording without needing a separate device. High-end cameras have intelligent human and facial recognition. External motion sensors can enhance cheap cameras lacking built-in capabilities.
Why choose a professional installer for a home security camera system?
While DIY installation is possible for wireless cameras, the professional installation offers benefits like optimizing wired camera placement, neatly running cabling, programming the system, testing functionality, and providing service if issues arise. If attempting DIY, choose user-friendly cameras and read instructions/tutorials carefully.